The governments of Cuba and Mexico signed a memorandum of understanding
Submitted by: admin

10 / 23 / 2008
---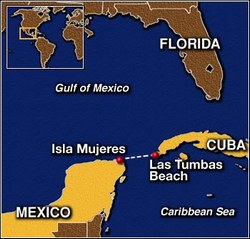 The agreement outlines that both parties will facilitate the legal flow of migration; combat illegal migration and the trafficking of persons, and associated crimes, including the theft and hijacking of boats and planes that endanger the lives of immigrants and innocent people.
The joint declaration states that both countries are committed to returning citizens who are illegally in the territory of the other and to promote cooperation through the Cuba-Mexico Working Group on Migratory and Consular Matters, and addresses the need to protect the victims of human trafficking and their human rights.
The governments of the two countries reiterated their rejection of coercive unilateral measures and extraterritorial laws, such as the US blockade against Cuba and the Helms Burton Act, which establishes restrictions on Mexican businesses. They expressed their full support of the UN General Assembly resolution entitled "The necessity to put an end to the economic, commercial and financial blockade imposed by the United States of America against Cuba."
The memorandum recognizes that US migratory policy towards Cuba encourages illegal immigration and the illicit trafficking of Cubans, and hampers efforts to effectively combat criminal organizations that profit from these illicit acts, violating the integrity and basic rights of these people.
The document also expresses the need to strengthen regional cooperation in this area, highlighting the importance of maritime cooperation between the Mexican Navy and the Cuban Border Patrol in the interception of boats involved in human trafficking, the arrest of traffickers and the repatriation of citizens from both countries.
The document was signed in Mexico City by Cuban Foreign Minister Felipe Perez Roque, his Mexican counterpart Patricia Espinosa, and Mexican Interior Minister Juan Camilo Mouriño.
(ACN)
---
Related News
---