The cuban Students from different polytechnic institutes will support Urban Agriculture in a Camagüey
Submitted by: admin

10 / 12 / 2008
---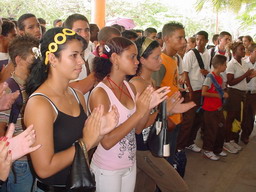 Young Communist League (UJC) and Senior High School Students Organization (FEEM) requested some space to collaborate in recovery works after Hurricane Ike and polytechnic students were assigned the task before the urgent need to rehabilitate soil containers for grocery and vegetable harvest next November.
According to Jorge Enrique Sutil Sarabia, UJC president in the province, working during weekends will allow students to attend classes as scheduled; lessons were interrupted last September because of the passing of a couple of hurricanes but they have been already restarted.
During the first stage, youngsters will work on the repairing of soil containers and sowing in Puerto Príncipe, El Imán and América Latina neighborhoods. There are 18 urban gardens devoted to the growing of vegetables and groceries in the city.
Besides this group, another brigade of young students from Camagüey is already working in food-production related tasks in Batabanó, a Havana Province Municipality, and in the Isle of Youth as well.
(ACN)
---
Related News
---