Namibia Donates One Million Dollars to Cuba
Submitted by: admin

10 / 10 / 2008
---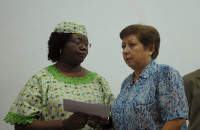 Claudia Grace Uushona, ambassador of the African nation in Havana, gave the donation to Cuban Minister for Foreign Investment and Economic Collaboration (MINVEC) Marta Lomas, who received it on behalf of the Cuban government.
The Namibian diplomat expressed the sorrow of her government and the people of her country for the devastation caused by the two hurricanes.
She noted that such damage is a double blow added to the hardships and losses caused by the US economic blockade against the island.
Claudia Grace congratulated the Cuban authorities for the effective evacuation and protection of the people, an effort she labeled as "an example for the world."
The diplomat said she was very sorry for the material losses in the Isla de la Juventud in particular, where she studied after being one the few survivors the slaughter committed in May 1978 by the racist South African regime in Cassinga, a refugee camp for Namibians in Angola.
The director of MINVEC's coordination and planning department Agustin Cabello, told the press that up to date Cuba has received 478 offers of aid valued at 50 million dollars, from 71 countries and 12 international organizations. Of the donations, 230 consist of cash, foodstuffs, fertilizers, cleaning items and building materials valued at 17 million dollars.
The damage caused by hurricanes Gustav (August 30) and Ike (September 9) are estimated at 5 billion dollars, according to official reports.
(Mathaba.net)
---
Related News
---