Cuba Guarantees the Replacement of Egg-laying Hens
Submitted by: admin

10 / 05 / 2008
---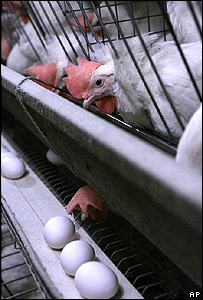 The modern poultry incubation plant in the central Cuban town of Camajuaní is one of three in the country benefiting from modern Chinese technology. The plant has shown a continued increase in output, which is vital to assuring the replacement of egg-laying hens.
With that aim, more than 135,000 chickens were sent to Guantánamo Province before the end of September, while another 17,900 went to Matanzas, after recovering from the damage caused by Hurricane Ike in a little more than 24 hours.
The incubator here will guarantee egg-laying hens for the provinces of Ciego de Avila, Cienfuegos, Sancti Spíritus and Villa Clara, and now has the capacity to support other provinces, said Miguel Fregales, the head of the plant.
For October, they foresee the stabilization of a monthly delivery of 200,000 hens for the substitution of egg-laying ones, given the capacity of the installation.
This will make the recovery of egg production possible, which was harmed by the recent hurricanes.
The birds are born 21 days after placing the eggs in the incubator; and approximately six months later, they become egg-laying hens.
(Juventud Rebelde)
---
Related News
---