Cuban jazz to be heard
Submitted by: admin

10 / 01 / 2008
---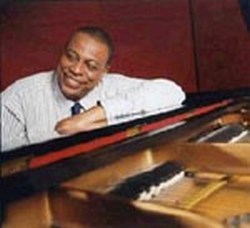 Chucho, a defender of the good African-Cuban jazz, commented in a press conference some details of his performance in Lebanon, Beirut, where he was able to share the stage with the French singer Michel Legrand, who is famous for having composed the soundtrack of the movie "The Umbrellas from Cherburgo".
"I had never really been in Lebanon, a country where people speak quite a lot of French and where Legrand's music is very well known and liked. The truth is, that this cultural event was considered one of the most important ones that has taken place in the history of this nation, where the people who live there have a great deal of knowledge of the jazz genre and Cuban music in general."
Also, Chucho announced that the Cuban jazz was strongly felt in countries such as Italy, France, Portugal and Spain. Precisely, during his tour around this last country, the Maestro conversed with the singer Dyango, to precise some details of the next album production they are both planning to launch.
"We almost have the selection of the themes in order to make the bolero album, which I dare assure will be truly beautiful. Our idea is to record it here in Cuba, in the Abdala Studios. The difficult task is to make a good selection of twelve themes from so much Cuban romantic music. That is what we are currently working on, but we can already advance that among the numbers already chosen are themes by César Portillo de la Luz, José Antonio Méndez, Vera and also from Piloto."
Also, Chucho Valdés informed that another project in which he is currently involved is the coming recording of a song album with the tenor Plácido Domingo: "There are still a few details to define, we have already though it out and are sure that we will be able to make it in the year 2009. I am enormously pleased by this due to the opportunity I will have to work very closely with one of the most important figures of world artistic work."
There are many albums that the Maestro has produced this year, like Obatalá: estoy aquí, the title of the last musical piece of Mayra Caridad Valdés and Canto a Dios by the National Symphonic Orchestra.
Another piece of news that will be received by jazz lovers very well, is the following launching of the album in which Chucho and his father, seated in the piano, demonstrate their domain over one of the most important chord instruments within the history of music.
Undoubtedly, this year has been very useful for Chucho Valdés, who is considered to be among the top four jazz players of the world.
(Cubarte)
---
Related News
---