In Cuba: Mass entry into the Federation of University Students throughout the country
Submitted by: admin

10 / 01 / 2008
---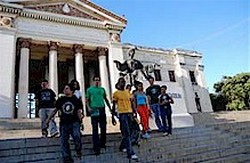 Mass entry into the Federation of University Students throughout the countryThis Tuesday morning, Havana's Enrique José Varona Higher Institute of Pedagogy is to celebrate its national matriculation and also pay tribute to Rafael Trejo, the FEU's first martyr, 78 years after he was murdered by the henchmen of Gerardo Machado's dictatorship.
This teaching institution was selected in recognition of the most noble of professions and to all those who have chosen and are training in this field, and responds to a special interest on the part of the FEU, one of whose priorities is constant attention to the teachers of the future.
At the Varona Institute and throughout Cuba, college students will pay tribute to Trejo and recall that on another September 30 – this time in 1954 – José Antonio Echeverría was elected president of the Federation.
These are two indelible pages in the history of the FEU's struggle, to which tribute is paid every year by choosing this date to admit students who have decided to participate in the work of the organization founded in 1922 by Julio Antonio Mella and forever committed to the people and the Revolution.
(Granma)
---
Related News
---