Cuba: A Wide Range of Tourist Options
Submitted by: admin

09 / 23 / 2008
---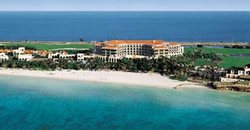 Cuban beaches are famous worldwide, as thousands of foreign vacationers travel to the Caribbean Island every year to spend their holidays in direct contact with nature.
The island's privileged geographical location, in a region of warm, crystal-clear waters, as well as dozens of kilometers of sand strips, constitutes a one-of-a-kind attraction for vacationers.
The world-famous coastal resort of Varadero, in western Matanzas province, is Cuba's most beautiful beach, despite fierce competition from Jardines del Rey (King's Gardens).
In central Cuba, the city of Cienfuegos, also known as the Pearl of the South, offers an excellent tourist product, in which the Bay of Jagua – the venue of major nautical events – and small beaches on the Caribbean Sea are ideal sites for scuba diving and snorkeling.
The Fortress of Nuestra Señora de los Angeles de Jagua overlooks the bay and the city, which proudly boasts the only Arc of Triumph in the country.
Sancti Spiritus province, which holds the first two villages founded by the Spanish conquistadors, is the perfect destination for those interested in Cuba's history and tourism.
The city was founded 486 years ago, in the early 1514, as Villa del Espíritu Santo (Holy Spirit). It was originally founded on the banks of the Tuinicú River, but it was moved to the banks of the Yayabo River in 1552.
Sancti Spiritus, the fourth of seven villages founded by the Spaniards in the 16th century, treasures architectural, historic, traditional, cultural and natural values, which create an attractive and singular combination.
The province also holds the former village of Trinidad, the third town founded by the Spaniards – also in 1514. The city boasts the best-preserved Spanish-colonial architectural complex in the continent.
Cuba's tourist options include scuba diving and snorkeling along more than 70,000 kilometers of insular platform, including some 5,000 kilometers of coasts bathed by both the Atlantic Ocean and the Caribbean Sea.
Nearly 5,000 species of fish, crustaceans, sponges and mollusks, as well as several species of corals, turn the Caribbean island into one of the best-preserved marine ecosystems in the region.
Three dozen diving centers operate throughout the country, where tourists can take initiation courses and diving excursions in coral reefs and caverns, under strict international standards for that activity.
(DTCuba)
---
Related News
---