The Cuban Ministries of Agriculture and Sugar Announced Package of Measures to Restore Agriculture
Submitted by: admin

09 / 20 / 2008
---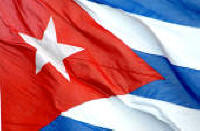 During a press conference in Havana, deputy Agriculture minister Alcides Lopez said that the winter agriculture season is about to begin in Cuba, which constitutes a crucial and at the same time complex period to guarantee the food the Cuban people need. The minister based his statement on the fact that scarcity is foreseen in the availability of produce, such as plantain, meat, tobacco, coffee and others.
The first of all 85 measures approved by the Agriculture Ministry is the recovery of all affected agricultural productions destined for the population, social centers, the industry and for animal feed, as well the repair of damaged facilities in the sector.
Other steps include the priority use of fertilizers, raw materials and animal feed affected by the rains; the immediate distribution of available resources to recover areas that can guarantee short-term productions, as well as those hard hit but that have potential for a soon recovery.
Alcides Lopez pointed out that the leasing of idle lands to legal entities and individuals is part of the measures underway, as well as the reorganization of labor in crucial fields, plus the necessary support for the recovery of Cuban territories that were inflicted huge damage. In tune with those initiatives, brigades of workers will undertake immediate collection of fallen and damaged trees and the
repair of watering equipment and different roofed cultivation facilities for the upcoming Winter season.
Avoiding the increase of weather-associated pests and diseases through close surveillance and the implementation of mechanisms allowing for immediate purchase and import of necessary resources are another two measures on the list.
The Cuban government official announced that the Union of Agricultural Workers and the National Association of Small Farmers will jointly encourage a political exchange among workers, aimed at securing the increase of production in the shortest possible term, as well as the reinforcement of controls as to the destination and prices of agricultural products.
The package of measures focuses on the recovery of several crops, particularly plantain, as well as the sectors of urban gardening, poultry, ranching, plus the cultivation of rice, citrus fruits, coffee and tobacco.     
(www.cubanews.ain.cu)
---
Related News
---