Destinos a new premiere in Cuban documentary cinema
Submitted by: admin

09 / 19 / 2008
---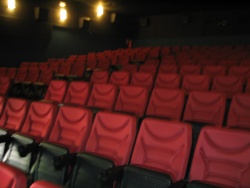 The most recent production of the Cuban moviemaker Guillermo Centeno (image) is a testimony, through the voice of the main characters, of the conditions of work and life, the compromise and hopes of people from Haiti, Venezuela, Argentina, Jamaica, Vietnam and Arabs, who have been educated from the 1960's to our days in Cuban universities.
During the presentation to the press of the movie, Centeno stated that he always fights for a humane language in their work, away from the slogan interview, that goes against the credibility of the product and he insisted on the importance of showing the character in their real and tragicomic world.
There are so very different realities such as that of an Argentinean medical couple who practice in the Venezuelan Forrest, that of the trainer of the Jamaican sportsman Asafa Powel, who studied Physical Culture in our country and that of Haitian doctors who face the precarious situation of the health system in their country, emerge in the 54 minutes that lasts the documentary.
Also, the documentary highlights the contrasts in the destinies of their main characters, when it refers to the situation of the Vietnamese engineers who are successfully practicing their profession and that of the refugees from Western Sahara in Argelia, who after they finished their degree in Cuba have not been able to practice their knowledge due to the political context in which they live.
Guillermo Centeno, the producer also of Montaña de Luz (Light Mountain) (on the Cuban workers in Central America), announced that Destinos will be followed by other similar materials, contextualized in Vietnam and Angola.
(Cubarte)
---
Related News
---