Plantations in Ciego de Ávila, Cuba Benefited from the Rain
Submitted by: admin

08 / 22 / 2008
---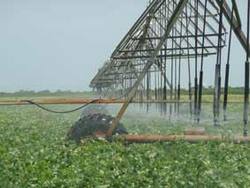 The cloudbursts of the last days all over the territory, favoured the plantations of bananas, roots, corn, rice, pineapple, citric, fruit-bearing trees and pastures, both in the root-bearing enterprises and in the cooperative-peasant sector.
The deficit of rain in Ciego de Ávila in June, July and part of August was about 260 millimetres, in accordance with the historical standards for the period, for which reason the dams are still below 50 percent of their capacity.
Technicians from the Agriculture sector set in exploitation 70 modern watering machines of the Fregat kind that had been tied or disassembled because of the storm.
They did the same with over 300 houses of protected and semi protected cultivations that were secured to avoid their destruction or deterioration due to strong winds. Over 500 wind mills were also set back in operation.    
Before the storm the farmers gathered thousands of quintals of roots, vegetables and grains that were ready to be picked and were in danger because of the floods.
The rains put back the preparation of lands for the sowing of potato which task had started in advance due to the effort of four root-bearing enterprises and several agricultural cooperatives.
(Invasor.cu)    
---
Related News
---