Cuban press to stress on Chinese movie maker Zhang Yimou
Submitted by: admin

08 / 16 / 2008
---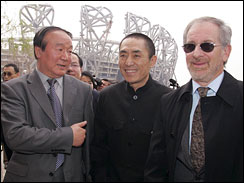 "Neither the records, nor the surprises, nor the feats of the first Olympic days have been able to erase the impression of the extraordinary opening show of the Beijing Games," stated the Granma newspaper.
For those who have followed Zhang´s trajectory, the "sumptuous lighting" of the flame turned out to be "coherent with the movie makers aesthetics," it added.
Granma said those movies such as Hero (2004), which marks in Zhang´s career the renewal of Chinese traditional epic, The house of the flying daggers and The curse of the golden flower, this one with images whose smallest detail frequently decides the emotional charge of the tape.
Graduated from the Beijing Movie Academy , Zhang Yimou directed the representation of the Turandot opera, by Giacomo Puccini, in the surrounding of the Forbidden City of Beijing with the participation of 1 500 singers, choir members, dancers and extras.
On that occasion he said: "The whole Chinese people expects for this play to be a success. Even though it is a western play, I am Chinese, I think in Chinese and it is a Chinese production."
Granma declared that the same thing could be applied to his conception of the Olympic inauguration, while it interwove the authenticity of its culture with a universal flight.
(Xinhua)         
---
Related News
---