Antonio Pacheco, Cuba`s managerCuban Baseball Manager Refutes Allegations From his US Counterpart
Submitted by: admin

08 / 16 / 2008
---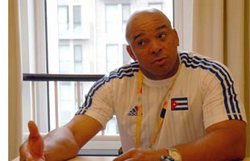 Antonio Pacheco, Cuba's manager, labeled as disrespectful the Accusation of pitcher Pedro Luis Lazo hitting US Jayson Nix, sending him out of the game in the 11th inning when his team was down 5-3.
"We never attack anybody, because we are professionals. Cubans respect their game and their team. We would never do a thing like that," stressed Pacheco at a press conference after the game.
The episode happened after the application of the new rule that states if a game reaches the 11th inning tied, two runners will be sent to bases with no outs to try to score the decisive runs.
Cuba was the first team at bat, for being the visiting team, and scored twice.
The US team had the same chance, and with its two runners in base, Nix try to bunt but Lazo's 90-mph pitch hit the bat and struck him violently in the face, which sent him out of the game.
"The accusation would have more sense if the ball had hit Nix's head first and then the bat," explained Pacheco.
Lazo, who has attended 4 Olympic Games and who is the top winner pitcher in national series, affirmed that he doesn't usually hit batters, "as a pitcher I just try to take them out" he added.
Several reporters covering the Games said that Johnson, an old fox in the Major Leagues, was only trying to steam out his frustration over his defeat against Cuba, US team's second in this tournament.
Johnson said he was not happy with the way in which the game was ended, referring to the new rule.
Pacheco praised both teams performance and called the Americans a great team, which he respects.
"We don't see politics in them (the US team), we think they are a great team and we played to win as we always do, there is nothing else into it," said the Cuban manager and concluded: "we can give millions of people a wonderful show."     
(www.cubanews.ain.cu)
---
Related News
---