Cuba Wins Olympic Volleyball and Boxing
---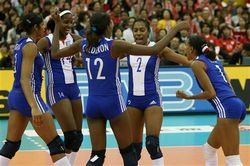 In women"s volleyball, Cuba crushed the US 3-0 (25-15, 26-24, 25-17), to string its second consecutive win and reach the medal round.
The head coach and team Captain Yumilka Ruiz said their win relied on good play, effective serving and faith in victory.
Cuban boxers slugged to their fourth win with 57 kg Idel Torriente (11-2 points) and Yordanis Ugas (21-3).
In beach volleyball, Milagros Crespo and Imara Estrvez ousted Holland Rebekka Kadijk-Merel Mooren 2-0 by 21-11 and 21-15.
Cuba leads Latin America and the Caribbean and shares standings with Germany at 19 medals, including silver by Yanet Bermoy (judo) and bronze of Yordanis Arencibia (boxing).
(PL)
---
Related News
---