Alonso Brito left Cuba, but it never left him
Submitted by: admin

08 / 11 / 2008
---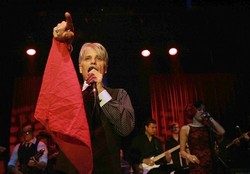 THE PUBLICITY photos for the new album by Alonso Brito have that air of Havana hipness that has cloaked many contemporary artists coming from the island. It's a chic mystique derived from that incongruous juxtaposition of stylish fashion against drab communist gray. There's Alonso, sporting a leather jacket with a dashing red scarf and thick, horn-rimmed glasses, gazing out a window onto a Havana street frozen in time.
The image, however, is a digital illusion. Alonso left Havana in 1960 when he was 10, a year after Fidel Castro took power, and he's never been back. But while the photo was faked, the sense of sorrow and nostalgia it projects is very real for this artist-in-exile who, on the eve of his 60th birthday, has reconnected with his roots and released the debut album that has eluded him his entire career.
"A lot of people ask me, 'Why did it take you so long to make it to Hollywood?' " he says, his flyaway silver bangs hanging over his eyebrows. "It's natural because society for a long time has been telling us, 'Oye, at 60, whoosh, retire! At 40, start waving goodbye. And it's like, no, no, no! You know how we talk about reinventing life nowadays, and staying with it, and persevering and doing what you want. I think people of my generation, the baby boomers, need to hear that story, because it's almost like a philosophy for us to continue living."
Still, it's late in the game for Alonso to be reinventing himself. He was virtually unknown in Los Angeles until a few months ago and remains a bit of an enigma. He suddenly appeared in town with those publicity photos and the grand illusion of galvanizing the local salsa music scene, which has a flourishing club circuit. The push is to brand Alonso as the recognizable face of L.A. salsa, which unlike New York and Miami has produced no big-name stars. He and his producers envision him as that urbane persona representing the multicultural salsa set.
Yet like the picture of the artist who wasn't there, it's hard to know who Alonso Brito really is. In Miami, he was always known as Dennis Britt, an eclectic musician, charmed nightclub manager and all-around bohemian who rubbed shoulders with the likes of Barry Gibb and Donald Fagen. He's also a respected songwriter, who moved to Nashville in the mid-'90s to help write songs for Raul Malo and the now-defunct Mavericks, including the country band's heartbreaking "Things I Cannot Change."
In a single sentence, he can switch from Spanish with a strong Cuban accent to colloquial English peppered with "dude" and "champ" and "baby." He was raised Catholic but dabbled in Buddhism as well as Afro-Cuban Santeria. But perhaps most improbably for someone being groomed as a salsa star, he had to take lessons from a local dance teacher to learn that authentic Cuban sway instead of those skittish, helter-skelter steps that seem to suddenly possess his skinny legs like a trance, frenetic but on beat. In the end, he dumped the teacher and kept the crazy feet, which reminded a bandmate of moves by old Afro-Cuban rumberos back home.
Alonso is like no other contemporary salsa singer -- part Mick Jagger, part Caetano Veloso and part Desi Arnaz on acid. His recent performances at King King in Hollywood, a well-attended four-week stand at the club that ends Tuesday, showcased the magnetism of his quirky stage presence and the powerhouse talent of his backing band with its piercing horns, edgy rock guitars and dense percussion. The thunderous live versions, however, tend to drown out Alonso's hoarse, tremulous baritone, which comes through more clearly on the album, "Santo Bueno" (Good Saint), available for download on music sites by Sept. 4. The modulated recording flows gracefully through rhythms from soft samba to genteel danzon, providing tailored settings for his tender themes of resilience, rebirth and remembrance.
You believe him when he says that writing these songs helped him overcome the heartache of broken dreams, a failed marriage and near financial ruin. And that he had to learn to trust again to get back on stage in a city that he had once left in failure.
"I've got a score to settle with this town," he says, a glow in his green eyes that change color with the light. "You didn't let me give you the love I wanted to give you, so I'm going to give it to you now."
DENNIS Alonso Brito has been haunted by a fear of failure since his childhood in Cuba, where his father was an executive for Colgate with an MIT degree. The demands of orthodox Catholicism and corporate capitalism wreaked havoc on the psyche of a boy who secretly harbored dreams of being a musician.
"If you walk up to some of these Cubans and say you want to be a piano player, you're going to get smacked across the face," says Alonso with that tobacco-smoked voice that makes his singing sound at times so dissolute.
Alonso's first instrument was the drums, which he played in psychedelic rock bands while attending an all-boys Catholic prep school in Miami. But he would soon "abandon the hippie thing" for a job in local television and that chance "to be normal." He started selling local TV ads, using his charm to open accounts with car dealers and mom-and-pop bakeries.
By 21, Alonso had married his childhood sweetheart and become a full-fledged yuppie. He had a four-bedroom house in Coral Gables with a Porsche in the driveway, but he also had ulcers. "You know what, man, all these accouterments, the 18-karat Cartier, was just not going to do it," he recalls. "I wanted to create."
He exchanged the suburbs for a bohemian life, living in hotels, "me and my guitar," and working at menial jobs. During the '80s and '90s, he became a fixture of the Miami music scene. He fronted hard-working bands such as Watchdog and Beat Poets, dabbling in styles from smooth jazz, reggae and British pop to a Latin-tinged style dubbed "troparock." He was so good at writing in so many styles that he was hard to pigeonhole -- and to market. Despite accolades from peers, the backing of wealthy supporters and interest from the industry, he never got a record deal with a major label.
In a profile published in 1995, New Times Miami dubbed him the artist who had been "repeatedly sideswiped by fame." "He's the kind of guy who never really caught the right breaks," says the Mavericks' Malo. "The guy's a creative genius."
The songwriters met when they were living in Miami. Later, Malo invited Alonso to Nashville to help write songs for his first solo project, 2001's "Today." It was a particularly productive time for Alonso, who by then had remarried and had a daughter. This had been his lifelong dream, making a living by writing songs. But he awoke to find the move didn't pay off as he had hoped. His country sojourn ended in disappointment.
Alonso is recounting this winding tale over a leisurely lunch at an Argentine restaurant on Melrose, not far from the offices of Candor Entertainment, the upstart Hollywood company headed by Chris McClure, his producer, bandleader, arranger, co-writer and chief cheerleader. Back at the busy multimedia complex several young people greet Alonso affectionately with a smile or a cheery "Hey, Pop, how ya doin'?"
"Good, baby, good," he responds, with a twinge of weariness. Like the publicity photo, his answer is also a facade. In private, he drops the hip image and starts to reveal those demons that still haunt him.
His collaboration with Malo ended with a dispute over publishing rights to the title song, "Today," used in Disney's 2002 film "Snow Dogs." Alonso says he was tricked out of his share, a charge Malo emphatically disputes, claiming Alonso still owes him money from those years in Nashville.
Right or wrong, Alonso's financial problems had already started undermining his second marriage. He says his ex-wife, a fashion designer like his mother, persuaded him to move from Nashville to Los Angeles so she could pursue her career. They arrived on the eve of Sept. 11, 2001, he recalls, and awoke to watch the twin towers falling, along with their hopes for a new life. "We're living in L.A. with no money, and that will take any marriage down," he recalls. "You feel like you're a burden to your family. My manhood just starts dissolving."
The couple split and Alonso returned to Miami in 2003. He had just turned 54. He was broke, alone and suffering from writer's block. But within a year, he was working at his old haunts again, singing and playing guitar, "trying to enjoy that little village life in South Beach." He started thinking he would die there, in some nightclub with his guitar in hand.
Then, the songs started coming again. He tapped into his roots and that capacity of Cuban music to find joy in expressing -- and releasing -- sorrow and heartache.
"I was able to start giving thanks for something I had lost, instead of being angry for the loss when all you can see is remorse and rancor and bitterness," says Alonso, who returned to L.A. in 2006. In the weeks ahead he plans to promote the record while making more local club appearances.
"In Cuban music, I found like an illusion at the end of the road. There was a moral. There was a vindication. . . .
"I discovered I don't need 30,000 people applauding every day to get an identity. I know what I'm about. And I'm not doubting my stuff anymore."
(Latimes.com)
---
Related News
---