Premieres in Havana the controversial rock opera Jesus Christ Superstar
Submitted by: admin

08 / 07 / 2008
---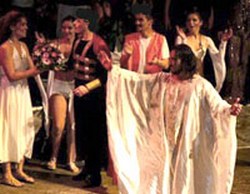 Cuba can now be included in the list of countries that has staged a version of rock opera Jesus Christ Superstar. This time it is not a season tour by US production company Stage Entertainment, but a show staged at the Centro Hispanoamericano de Cultura by students from the Havana's Institute of Chant Lyrique.
Unlike all previous stage productions, the Cuban cast doesn't include professional artists. They are 35 third and fifth year students, directed by singer and professor Katia Caso, aided by music director Danisia Pérez and music arranger José Luís Cereijo, who also plays Judas and shares the leading roles with Alejandro Boué (Jesus) and Camila Rivero Caso (Mary Magdalene).
The students' production has been inspired by the successful Spanish 1975 version by Nacho Artime and Jaime Azpilicueta from Tim Rice and Andrew Lloyd Webber's original 1970 script. It again recreates, in rock style, the biblical story of the last seven days of Jesus' life, Judas' treason, the Last Supper, Mary Magdalene's love, and the Crucifixion.
Even when the vocal interpretation has been the weakest issue in each of the previous versions, (because it has historically been a musical staged by singers and not by actors) the Cuban version makes more emphasis on the dramatic side. The director defends the idea of acting by singing. Therefore, this version focuses on the performance, also the weakest side of Cuban operas, according to Caso.
The music, with the exception of several arrangements, keeps the original score that made it famous worldwide, inspired on the '70s rock opera, with powerful guitar riffs and psychedelic orchestrations. The production also keeps the charming hippie touch of the original and the visual charm of the film directed by Norman Jewison in 1973. It has eclectic and informal stage and custom designs adapted to our times. The performers are dressed in suits and jeans while the backdrop shows images of the current conflicts in the region that the Bible dictates as scenery of those past events.
Jesus Christ Superstar, a creation turned into a cultural phenomenon, which keeps showing nonstop in venues around the world, remains its dramatic and expressive strength in one piece. The comments about the values of human beings and the revolutionary capacity of the youth are well alive in this version, which changed the end to make it more hopeful and emotional.
With this new production of such legendary rock opera, thirty seven years after its premiere in the Mark Hellinger Theater in New York in October 1971, the Havana audience has the chance to enjoy a musical that, thanks to the beauty of the music, the transgressing character of the script and the powerful mix of stage design, music and performances, has been and is still labeled as strange, original and exciting.
(www.cubanow.net)    
---
Related News
---