Urban farming has taken off in Cuba over the last two decades
Submitted by: admin

08 / 04 / 2008
---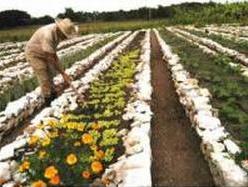 The initiative, conceived of in 1987 by then armed forces minister Raúl Castro, who is now president, was aimed at making fresh produce available to residents of cities and towns, who comprise 75 percent of the Cuban population, in the face of the steady decline of conventional agriculture.
"In the 'special period' (the euphemism used to refer to the severe economic crisis of the 1990s), farmers did without chemical products and people still ate," Ania Yong, an expert at the National Institute of Agricultural Sciences (INCA), explained to IPS, describing successful projects like Lázaro Hernández's fruit farm.
For the past eight years, Hernández has grown fruit and other crops on one hectare of land near the town of Bejucal, on the outskirts of Havana. He uses organic compost to nourish the soil, and does not use pesticides or farm machinery.
"Only limited funds and resources are needed to guarantee fruit supplies in Cuba,"
His plot of land, capable of supplying fruit to around 1,000 people in the nearby town, has produced extraordinary yields, like a single bunch of plantains weighing 256 pounds (116 kgs), the biggest seen on the island.
"Managing large extensions of land, which generally belong to state companies, is much more complex," said Yong. "There are other interests at play, and fewer possibilities to experiment, which makes things more difficult, because that kind of farming is not exactly trying to achieve organic production."
According to the National Statistics Office (ONE), fruit (not including plantains) was produced on 169,000 hectares in 2007. State farms, which accounted for 41.5 percent of that area, produced just over 25 percent of the total -- not enough to guarantee regular supplies of fruit for the population.
But the key may not only lie in the use of agro-ecological techniques or crop diversification. The wages of those working on Hernández's farm are linked to the results achieved on the areas they attend -- a formula that is apparently effective in stimulating labour stability and efficiency.
The mechanism of linking pay to performance is to go into effect in all state companies as of August, under new government guidelines that will eliminate wage caps and "egalitarianism", which were criticised by Raúl Castro in a Jul. 11 address to parliament.
Cuba's National Urban Agriculture Programme has the backing of six government ministries and around 20 other institutions, social organisations and scientific research centres, which coordinate the work of thousands of intensive gardens, suburban farms, organoponic gardens, micro household gardens and other innovative forms of production.
The programme, which employs about 300,000 people, including 40,000 retirees, involves farming in rural areas surrounding settlements of at least 1,000 people, except in Havana, where crops are grown within the city itself.
Production has climbed from 4,372 tons of fresh produce in 1994 to 1.4 million tons last year.
"I see urban farming as complementary to conventional agriculture, and to some extent as a model that will help resolve Cuba's food supply problems," a local economist told IPS.
"A model that could solve the problem would be characterised by diversification in terms of forms of property and ways of working the land, based fundamentally on cooperatives, with broad participation by private farmers, and including state companies," said the economist, who preferred to remain anonymous.
The ONE reports that only 2.9 million hectares of the total 6.6 million hectares of arable land in Cuba were cultivated in 2007. Of the idle land, more than 88 percent was in the hands of the state or Basic Units of Cooperative Production (UBPC), seen as extensions of state companies by some experts.
On Jul. 18, Cuba's socialist government announced a decree-law under which farmers and cooperatives will be able to use idle government land. The measure is aimed at boosting national food production in this Caribbean island nation, which will spend 1.1 billion dollars more on food imports this year than in 2007.
There are pending aspects to be addressed in urban agriculture, like the regularisation of the system of weights and scales, the provision of organic compost, and supplies of seeds, a large part of which are purchased abroad.
"Seeds are one of the weakest links in the agricultural system," Humberto Ríos, director of the Local Agricultural Innovation Programme (PIAL), an initiative that is promoting innovative techniques among more than 8,000 small farmers, told IPS.
"The improvement, production and certification of seeds is highly centralised in agriculture," said Ríos, who added that "farmers should participate more in decision-making on the policy governing Cuban varieties of crops and should have a right to produce seeds for the purpose of selling them."
"Farmers can keep their germplasm and have their own seeds when planting time comes around, without depending on anyone or anything," said Yong, who is also involved in PIAL.
(ACN)
---
Related News
---