Providing 99, 11 percent of the residential sector of Ciego de Ávila, Cuba
Submitted by: admin

08 / 03 / 2008
---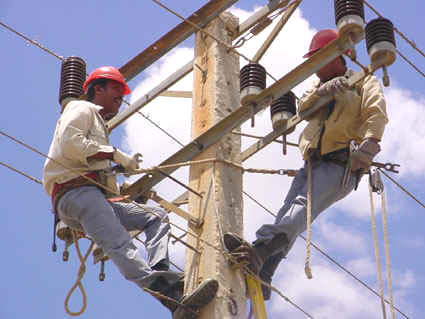 The achievement attains a greater dimension if it is taken into account that the territory where the province is located ranks among the less populated in Cuba, with less than 45 inhabitants per square kilometre, which makes more difficult the works to assemble the system.
This region was electrified 1911, when the installation of a plant operated by a steam engine took place in the main city. In 1924 the plant became the property of a North American company.  
However, it was not after 1959, starting from the revolutionary victory that a gradual development began in this sector, with the construction of a wide net of transmission and distribution lines that duplicated the number of electrified houses.  
Three years ago, with the beginning of the Energy Revolution, in order to save, other strategies were implemented, among them the installation of 121 sets of generating plants using diesel and fuel oil.
These machines, able to produce 120, 2 megawatts, have contributed to the decrease of blackouts caused by generation deficit while allowing over 129 300 families to use the kitchen units recently distributed.
The advance of this national project allows, also that bakeries, hospitals, policlinics, pharmacies, dentists, dairies and  meat industries, among others, to work uninterruptedly, thanks to the service given by small generating plants.
(Invasor.cu) 
---
Related News
---