In Cuba: 6th International 'Pensar a Contracorriente´ Essay Contest
Submitted by: admin

07 / 31 / 2008
---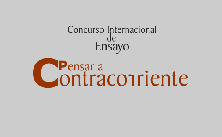 By promoting the dissemination of streams of consciousness that are commonly silenced by the mainstream media, the essay prize seeks to contribute to promoting change in the fields of social sciences and culture, thus resisting hegemonic domination.
Rules
1. Cuban and foreign authors can participate, submitting an unpublished essay in Spanish, English or French language (or translated into any of these three languages).
2. Essays should be in the range of 20 to 40-pages long. Every sheet of paper must have 1,800 characters (30 lines per 60 characters each), for a total of 72,000 characters.
3. Each author shall submit ONE work.
4. November 15th, 2008 is the deadline to send essays as attached documents (accepted formats include .rtf, .doc and .odt). Participants should send just one copy of the work in a single message that should include the author´s full name, address and curriculum vitae. The works should be sent to the following e-mail address:
[email protected]
Each author will receive a reception confirmation from the Contest Office, thus notifying the text´s inclusion into the contest.
5. A prestigious international jury will grant three prizes, consisting of 1,500, 1,000 and 500 euros, to be awarded to winners of the first, second and third places, respectively. The jury will also grant as many special prizes as it deems appropriate.
6. A book will be published, containing the awarded essays and a selection of the completed works. The Cuban Book Institute will have the rights of the first edition of all the texts in competition for one year, as of the dateline, November 15th, 2008 .
7. The jury´s decision is unappealable, and will be announced in February 2009 in the framework of the Havana International Book Fair.
8. Participation in the contest implies acceptance of these rules.
(La Ventana)     
---
Related News
---