Small Farmers Will Avoid Import of foods to Cuba
Submitted by: admin

07 / 20 / 2008
---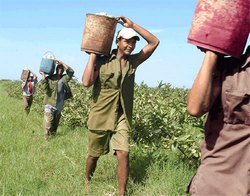 Both figures are more than double of the initially plan and although remarkable yields are not reached yet, the future production will help to guarantee the population's basic basket, strongly subsidized by means of the social funds of consumption.
According to agreements adopted by the farmers of this territory, in more than 180 grass root assemblies last days, they will also increased the extraction of bovine milk, which will be sold directly to children, old men and sick people, fundamentally, there will be more meats, vegetables, and fresh condiments.
The province of Las Tunas, located to more than 690 kilometers to the east of Havana, depends a lot economically from the agriculture and counts on around 13, 200 small farmers and people in cooperatives who produce more than half of the foods that are consumed by those 528, 000 inhabitants of the territory.
At this moment Cuba pays more than 1, 100 dollars per each ton of rice, when at the end of 2007 it only invested 525 dollars in same quantity of that cereal, including price, expenses, and freights.
Because of the incredible price of the fuel oil, the imperialistic genocidist policy of transforming the foods into fuel --although great part of the world dies of hunger--, and the speculation with those and other calamities, the eatable oil also increased from 1, 213 to 1, 577 dollars the ton from December 2007 and to June 2008.
The prices in the world market increase constantly and the quarter of chicken has been paid, from 1, 073, to 1, 405 dollars per ton; the black bean, from 830, to 1, 308; the red one, from 960, to 1, 608; that of soya, from 545 to 674, and the pea, from 568 to 660 dollars.
In order to understand better the potentialities of Cuba in the substitution of imports of foods, be enough to know that the country can produce rice at some 400 convertible Cuban pesos the ton, only 36 percent of the cost in which it would incur, if it acquires it abroad. Avoiding unnecessary expenses to the nation is the main effort of the small farmers in Las Tunas.
(Tiempo21.cu)
---
Related News
---