Revitalization of Cuban Urban and Traditional Agriculture
Submitted by: admin

07 / 20 / 2008
---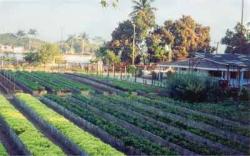 Del Carmen Perez said that production results need to rise in urban agriculture to serve as reference for the new measures to be applied to traditional agriculture in an effort to lower domestic market prices.
The minister said that after 20 years of work, urban agriculture has good potential to continue growing, and that 75 percent of the Cuban population lives in cities. She pointed out that including production, scientific and social organizations into production projects, along with making a direct link between the salaries and results, are two of the many experiences learned from urban agriculture, which should contribute to resolve the challenges of conventional agriculture.
She said that there are several things still to be done, such seting up more seed farms, increasing the sources of organic fertilizers, and obtaining more scales for sales.
The head of the National Group of Urban Agriculture and director of the Institute for Fundamental Research in Tropical Agriculture (INIFAT), Dr. Adolfo Rodriguez, made reference to a concern presented by Fidel Castro about agriculture, and his decisive participation in the development of urban agriculture.
He specified that in 1997, after 10 years of experience, 28 subprograms were developped, which include the production of several animal species, support in terms of seed supply, irrigation, fertilization with organic fertilizers, drainage, training, and administrative tasks.
Rodriguez said that the consumption of vegetables has increased in the entire country; and that urban agriculture is present with urban vegetable gardens, intensive vegetable gardens, and other modalities in all municipalities, including Zapata Swamp, where sowing is carried out over reefs.
He pointed out that some 5,000 garbage dumps have been turned into productive vegetable gardens with a corresponding positive environmental impact. He added that day-care centers, senior citizen homes and semi-boarding schools for primary school students, and other social centers are first and foremost linked to producers, with 25 percent discount in prices.
The head of urban agriculture in the province of Sancti Spiitus, Engineer Maria Elena Leon, set out some of the techniques used for urban crops with which advances have been made in the production of vegetables, medicinal plants, and animal raising, among other results.
She said that the better use of spaces in balconies and other open areas in peoples' houses makes it possible to produce even fruit trees, like the dwarf guava, by way of "permaculture" techniques.
Engineer Lazaro Omar Hernandez, producer of the nursery and integral fruit farm of Bejucal —the best in the country—, shared his experiences with interspersing fruit trees at different periods. Since 1999, he has planted 36 varieties of avocado, mango, anón, mamey, banana, pineapple, and guava, which he described as the queen of Cuban fruit, because it can be produced all year round.
He explained that the farm's 6 hectares produce the same as 16 hectacres thanks to the use of agrotechnology and rotation methods, which links workers' salaries to results and uses crop interspersing.
Engineer Jorge Isidoro Leyva, director of varied crops at the Sugar Ministry, admitted that there are delays n the development of this sector's program, attributed to lack of priority, slowness in investment and delays in the arrival of irrigation systems.
Finally, he added that there are still 450 hectares pending electrification. He offered details of projects carried out in various provinces to complete more than 10,000 hectares of vegetables and related crops, as well as salary and salary stimulation systems used by way of excellence and reference farms, according to periodic evaluations.
(Granma)
---
Related News
---