In Granma Province of Cuba Young Canadians Tour Places of Interest
Submitted by: admin

07 / 05 / 2008
---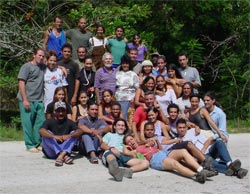 Organized by the Solidarity Committee of the Canadian city of Trois-Rivieres in the province of Québec, the visit is as part of the traveling project Guerrilla de Teatreros (Guerrilla of Theatre People), which since 1992 has performed systematically on the Cuban mountain range.
Starting from May 25th, the Canadian visitors have toured cultural institutions, hospitals and other places of interest in Bayamo and have also attended artistic presentations.
From June 8th through the 24th, they toured scenes of the revolutionary struggle against the Batista dictatorship (1956-1958) in the mountainous municipality of Bartolomé Masó, including Providencia, Boca del Salto, El Podrío and others.
They also offered clown shows, workshops and the inauguration of the photo exhibit ´Retratos de la Sierra Maestra' (Pictures of Sierra Maestra) by Canadian artist Patsy Hayes, who participated in a similar exchange in 2006.
Most visitors are students of Canadian arts schools. Initiated in 2006, these contacts allow them to learn first hand about Cuban reality and life in Cuban remote regions, as well as enjoy the natural beauty of the Cuban mountain range.
Back in 2004, Pierre Lavergne, President of the solidarity committee, was installing solar panels in Cuban schools in the mountain range when he first learned of the Canadian traveling project.
Made up of 30 actors and actresses, musicians and art promoters, the 'Guerrilla de Teatreros' project was awarded the Somos Patrimonio Prize, granted by the Andrés Bello Agreement, which is formed by a group of nations, including Cuba.
(www.lademajagua.co.cu)
---
Related News
---