An experience to attain rice self-sufficiency will begin soon in six municipalities of Cuba
Submitted by: admin

06 / 28 / 2008
---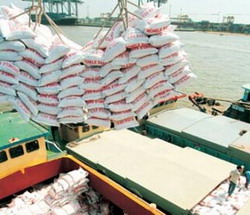 Lugo Fonte explained in the city of Camaguey that the purpose of this initiative is to cover the basic needs of this cereal that the state sells to the population at a subsidized price and is also destined to the social consumption (free of charge to schools, hospitals, day nurseries).
The municipalities chosen to put in practice this experience are Mantua, in Pinar del Rio; Calimete, in Matanzas; Aguada de Pasajeros; in Cienfuegos; La Sierpe, in Sancti Spiritus; Vertientes, in Camagüey and Yara, in Granma.
The self-sufficient in rice production is based on the model of those farmers that cultivate the rice in the unspecialized sector, those who develop plantations in middle and small agricultural surface with low resources.
These farmers are part of cooperative farms, that although have other cultivations and activities as their main goals also produce rice in small plots.
This experience makes possible to appraise the real possibilities to satisfy the domestic demand in a short-term period, whereas the price of this cereal continues its up-going trend in the world market.
By the time, to buy this rice in the world market Cuba has to pay more than 1'100 US dollar per ton, including freight and insurance, while the average cost of producing it in the island nation is 360 or 400 US dollars per ton.
(AIN/Radio Cadena Agramonte).       
---
Related News
---