At the EFIRO 2008 World Philatelic Exhibition Cuba is Present With Six Collections
Submitted by: admin

06 / 27 / 2008
---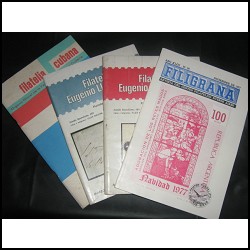 José Ramón Crego, executive vice – president of the Cuban Philatelic federation, indicated that the biggest island of the Caribbean is presenting in the event two collections in the category of adults, and four in youth category.
In the first case there are Cuba colonial (Colonial Cuba) of Leonardo Palencia and La mujer (Women) of Joaquín Mestre, while the young collections are Enteros postales de Cuba (Enteros, postcards from Cuba), of Pedro Morales Capote; Primeros vuelos (First figlths), of Carlos Galguera; Prefilatelia cubana (Cuban pre-philatelic), of Adrián Fernández and Papel sellado notarial (Notarial sealed paper), of Raudal Bustos.
Crego indicated that the Cuban representation hopes to achieve a good performance and keep, with it, the awards won in previous events.
Regarding the EFIRO 2008, the Cuban Postal administration will circulate a stamp emission, made out by six stamps and a philatelic paper of birds and butterflies.
The Bucharest meeting is presenting 780 collections of very high quality from different countries, among them the USA, Spain, UK, Germany, France Sweden, China, Greece and the host nation. The competition is held in every class stipulated by the Philatelic International Federation.
Several seminars are held as part of the expo, among them one about the Postal History, the Traditional Philatelic, the Aero Philatelic and Youth and Postal Entero Expo will also be the venue for the 70 Congress of the International Philatelic Federation.
(www.radiorebelde.com.cu)
---
Related News
---