XLI edition of the Jornada Cucalambeana from Las Tunas, Cuba
Submitted by: admin

06 / 26 / 2008
---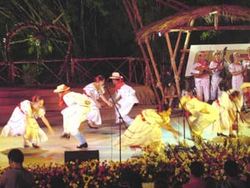 The National Literature Award also told this reporter that during these celebrations of tribute to the famous local bard Juan Cristóbal Nápoles Fajardo (El Cucalambé) "the voice from our countryside" has been always present.
This concept becomes real in the insistence for this edition to preserve the longest country cultural representative manifestations, according to Margarita Menjuto vice-president from the Consejo Nacional de Casas de Cultura (National Culture House Council) (CNCC in Spanish); Luis M. Planas, from the Asociación Nacional de Agricultores Pequeños (National Small Farmers Association) (ANAP in Spanish), organizations that are both sponsors of these events; and Ramón Batista, director of the Casa Iberoamericana de la Décima from Las Tunas, an institution that calls them and organizes them, this time the event will be dedicated to the poet and researcher Virgilio López Lemus and to the folk music artist Inocente Iznaga (El Jilguero de Cienfuegos) and among its novelties is the introduction of the space called El Bohío, for amateur theater artists, oral narrators and French speaking music-dance groups, informed Ober Caballero, from the Provincial Center of the CNCC in that province.
Waldo Leyva, director from the Centro Iberoamericano de la Décima, also made a call to consider more and more every time in these reunions "the enormous variety in the wealth of the folk music," which is not yet exploited to its maximum limit in most of the programs dedicated to the topic in the Cuban media.
Among the activities that characterize these festivities are the competitions Justo Vega for improvisers; Iberoamericano Cucalambé for written decimas; and of glosas Adolfo Martí; as well as a theoretical debate which this year will be centered in popular culture, its strength and identity.
There will also be open rooms for craftsmanship, popular culture, mural decimal and landscapes; and for photography, especially the common portrait exhibitions from these festivities that are exhibited by the German artist Urlich Meyer.
Something that is very typical and attractive is the selection of the Flor de Birama that will preside over the event, among the candidates from the country; together with the peasant horse games; activities for children; dance activities and evening galas at the Anfiteatro de El Cornito, the traditional venue and the place where Nápoles Fajardo used to live. His 180th anniversary will be celebrated with a special emphasis next year.
(Cubarte)
---
Related News
---