In Santiago de Cuba Moncada Museum Remodelled
Submitted by: admin

06 / 22 / 2008
---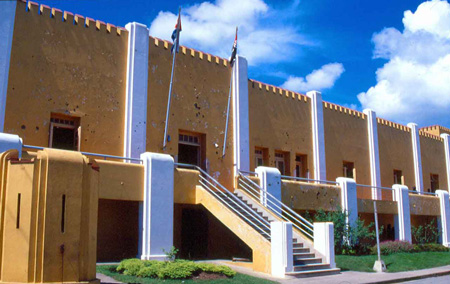 Museology specialist Ana Julia Santa Cruz told Granma news daily that the project includes new documents, maps and photographs, and structural changes to the museum. The additions will increase the historical content of the museum and present, with more elements, the validity of José Martí's ideas, which guided the attackers.
The new information will also include a map with the location of the corpses of the young attackers who were assassinated after the assault. It will display objects used in the torture chambers during the 1950s, photographs of the three places where the sessions of the famous Trial 37 were held, and a map of the route followed by Fidel Castro until he was arrested on August 1, 1953.
Displays on the prison where the Moncada attackers were held at the Isla de Pinos, their release and exile, preparations in Mexico for the journey of the Granma yacht, the struggle in the Sierra Maestra Mountains, the creation of guerrilla fronts, the triumph of the Revolution, and the transformation of the first barracks into a school by the revolutionary government, will also be expanded.
Starting July 26th, the Museum will show a commemorative plaque with the image of Cuba's National Hero José Martí made by émigrés in the year that marked the centennial of his birth (1953), and a bust of revolutionary leader Eduardo Chibas that belonged to martyr Renato Guitart, among other items of interest.
The Provincial Heritage Office, the Imágen graphic design group, and the Office of the Santiago de Cuba Curator, will direct the remodeling of the building.
(Granma)
---
Related News
---