End US Blockade against Cuba Declaration of Colombo
Submitted by: admin

06 / 16 / 2008
---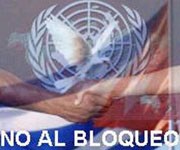 Amid Long Live Cuba cheers, the nearly 400 participants from 20 countries in the 4th Asia-Pacific Meeting of Solidarity with the Island approved on Sunday the Colombo Declaration in support of the Cuban people.
The document demands "an immediate end to the US economic, financial, commercial blockade against Cuba."
It also expresses the backing of the peoples in Asia/Pacific "to efforts by the Cuban Government and people to develop their society and economy according to their own wishes and aspirations without any foreign intervention."
In his closing speech, Secretary of the Organizing Committee of this gathering, S. Nagendra, said that this meeting shows that Asia and Oceania, with two-thirds of the world population, support Cuba.
The Declaration also strongly rejects the US unfair holding in prison of five anti-terrorist Cuban fighters and demands "their immediate release."
We consider this a double standard policy, as confessed international terrorist Luis Posada Carriles is currently walking Miami streets freely," denounces the document.
The nations in Asia/Pacific welcome the Cuban people"s breakthroughs and achievements in 50 years of Socialist Revolution and we will continue supporting them against any foreign intervention in their struggle to protect their sovereignty," concludes the Declaration.
In plenary session, participants also approved three resolutions, including a greeting message to the Cuban Revolution historical leader Fidel Castro.
(Trabajadores.cu)
---
Related News
---