Cuba will begin to apply General Regulations on the ways and systems of payment
Submitted by: admin

06 / 13 / 2008
---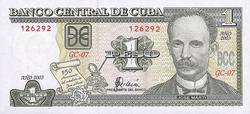 Cuba will begin to apply General Regulations on the ways and systems of payment, issued by the Ministry of Labor and Social Security, which introduces innovations in the system of payment according to results.
Resolution 9 of 2008 has the objective of standardizing salary policies between enterprises under the business perfection system and those that are not in this process.
In statements published on Wednesday by Granma newspaper, the vice-minister of Labor and Social Security, Carlos Mateu Pereira, explained that the document establishes the concept that a company should have as many systems of payment according to results as the number of different activities it may have.
Thus, it includes payments per item, by direct indicators, specific production and services, efficiency, etc.
Mateu Pereira explained that a person working in an area that produces a given item will now get paid according to the production or exceeding the production of that item, and if he or she offers services, according to the quality of these services.
The new regulation states that "those workers who are covered by systems of payment linked to direct results of production or services will have no limit on their salaries for exceeding the production in the indicators included in the system of payment."
Until August, enterprises that are not included in the business perfection system will adjust and redesign their systems of payment according to results.
The vice-minister said that once a company finishes this process, revises the amount of money and indicators for each area, and presents its plan to the corresponding ministry and the ministry approves that plan, then it can implement the new regulation right away.
(Adelante.cu)
---
Related News
---