Cuba: A Great Recreational Option
Submitted by: admin

06 / 09 / 2008
---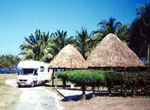 Dozens of kilometers of excellent beaches, with crystal-clear water and fine white sand, are complemented by exuberant vegetation in a perfect state of preservation to enjoy
ecotourism
.
In addition to that, the island nation also offers a wide range of nautical activities, including
scuba diving
and snorkeling along more than 70,000 kilometers of Cuba's insular platform, including some 5,000 kilometers of coastline bathed by the Atlantic Ocean and the Caribbean Sea.
Moreover, nearly 6,500 species of fish, crustaceans, sponges and mollusks and 850 kilometers of coral reefs have turned the island nation into one of the best-preserved marine ecosystems in the region.
Divers can also visit hundreds of sunken ships from the Spanish colonial period, as a result of Cuba's prominent role as a hub for the fleets that sailed out for Spain carrying the wealth plundered from the colonies.
Three dozens of specialized dive center operate throughout the country, where vacationers can take initiation
courses
and dive in coral reefs and caverns, under strict international standards for that activity.
On the other hand, Cuba's tourism industry has the infrastructure necessary to turn vacations into an effective mechanism to improve health.
Thousands of doctors, state-of-the-art technology and dozens of specialized institutions offer a wide range of medical programs, including traditional and natural medicine.
Treatments also include medicinal waters and mud, which are used to treat and cure several diseases.
Cuba also combines recreational options with treatments such as thalassotherapy to improve vacationers' quality of life.
Traditional tourist options are complemented by a hotel infrastructure that provides accommodation, gastronomic offers and extrahotel activities.
In addition to world-famous establishments such as the Hotel Nacional de Cuba and those run by foreign chains, hotels in developing destinations also provide excellent services.
That is the case of the Covarrubias Villa, in the beach of the same name in eastern Las Tunas province, where thousands of foreign tourists spend their vacations every year.
Holguín's northern coast, in eastern Cuba, also provides excellent accommodation and recreational options, which are complemented by traditional destinations like the world-famous coastal resort of
Varadero
.
(DTCuba)
---
Related News
---