Tribute to Be Paid to Che in Santa Clara
Submitted by: admin

06 / 04 / 2008
---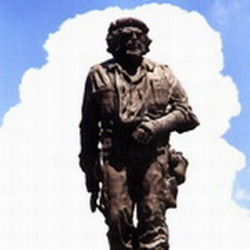 This city that guards the remains of the unforgettable Major Ernesto "Che" Guevara and his comrades of the guerrilla forces that fought in Bolivia, is preparing to pay a tribute to the hero on the 80th anniversary of his birthday.
Among the most significant moments in the program, sponsored by the Young Communist League (UJC) of Villa Clara Province, is an artistic celebration in which a work will be unveiled on the evening of June 13 in the city square named after the legend.
On the following day a mass rally will be carried out in homage to the man known as the "heroic guerilla fighter." During that rally a group of youths will receive their membership cards into the UJC.
Events will also be held marking the life and revolutionary work of Che, as well as his concepts of women and the family. In addition, there will be screenings of documentaries and performances by poets and folk singers.
A group of outstanding youths will ascend to the "Caballete de Casas," the heroic guerilla fighter's first camp in the Escambray Mountains. Other youths will have the opportunity to talk with the founders of factories that Che inaugurated in the province.
The homage will conclude on June 14 in the town of Güinía de Miranda, the first settlement liberated by Commandant Ernesto Che Guevara after his arrival from the Sierra Maestra Mountains in October 1958.
(
www.juventudrebelde.co.cu
)
---
Related News
---