Teacher Recruitment in Cuba
Submitted by: admin

06 / 04 / 2008
---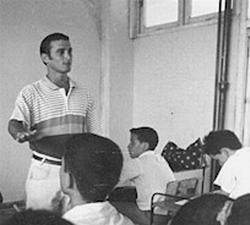 Recruiting teachers and professors cannot only be seen as a way to meet numbers, but as an important and profound process, said Education Minister Ena Elsa Velázquez Cobiella during a review meeting of this field in the province of Camagüey.
Velázquez also said that now is the time to recruit young people to enrol in education majors in universities, since the process that begins at the earliest ages. It is necessary to work with the students' motivation and professional orientation to come up with a high school student more committed to the vocation teaching, she said.
Velázquez Cobiella noted that —like in journalism— the awarding of education majors to students who do not want them and do not have the abilities to be teachers is one of the problems of education in Cuba. "This factor has a bearing on the quality of education because they later abandon the field," the minister said.
Velázquez also spoke about the importance of the training of students enrolled in pedagogical high school, and said that for the next academic year there is already a significant number of students who have graduated from these centers. They will now enter higher pedagogical institutes, something that is advantageous for their continued training and ultimate work.
The review of the 2007-2008 academic year in Camagüey, presided over by the minister, also dealt with the upgrading of teachers as a starting point to achieving a qualitative leap in education.
In the exchange with professors and educational leaders of the province, the minister said they have to pay special attention to these elements in each school, because educating is a strategic task of the Cuban Revolution and therefore, "we have to carry it out coherently and efficiently."
In the meeting, Velázquez also described incentives for educators as a strategic aspect in the field.
(
www.juventudrebelde.co.cu
)
---
Related News
---