Vacations and Recreation in Cuba
Submitted by: admin

05 / 14 / 2008
---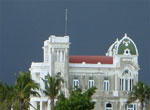 Sun and beach options pave the way for excellent recreation and leisure throughout the island nation, in addition to local offers that are typical of each Cuban region.
In that regard, the central provinces of Villa Clara, Cienfuegos and Sancti Spiritus hold the Cubanacán Protected Area, which is a natural safe haven for amphibians, reptiles, mammals and birds, including ten species that were included in the list of endemic species.
Also in the region is San Juan de los Remedios, the eighth village founded by the Spanish conquistadors in the 16th century.
Culture and history are enriched by local traditions from the Spanish colonial period, and tourists can enjoy a wide range of options, including nautical activities,
trekking
and ecological tourism. There are some wonderfull trekking sites like
Pinar del Rio
and
Santiago de Cuba
.
In Villa Clara, nature lovers can visit the Hanabanilla Lake, the only reservoir in the mountains, into which the rivers Negro, Hanabanilla and Guanayara flow.
The Hanabanilla Lake covers 14.9 square kilometers and is 30-40 meters deep. It is 364 meters above sea level and can store 300 million cubic meters of water.
The development of Cuba's tourism industry has also involved the keys surrounding the main island, as major projects have been carried out on the northern keys, which boast several kilometers of excellent beaches and pristine nature.
A 48-kilometer-long causeway over the sea connects the largest island of the Cuban archipelago with the keys Santa María, Las Brujas, Ensenachos, Cobos, Majá, Fragoso, Francés, Las Picúas and Español de Adentro, among others.
The city of Trinidad stands out in Sancti Spiritus. Formerly known as Villa de la Santísima Trinidad (Village of the Holy Trinity), the city was founded in 1514 and was among the first seven villages founded by the Spaniards in Cuba.
Also called the City Museum of Cuba, Trinidad has the privilege of being one of the country's colonial cities and holds one of the most complete and best-preserved architectural structures in the American continent.
Large, comfortable and aired colonial mansions, luxurious palaces and Cuban colonial art have turned Trinidad into an undisputable urban and architectural crown jewel.
Cienfuegos, the capital of the province of the same name and also known as the Pearl of the South, offers vacationers the chance to stay at the Jagua Hotel.
A system of channels turns the Cuban archipelago into an aquatic labyrinth with a huge potential to develop tourist programs, including bird watching and nautical activities.
(DTCuba)
---
Related News
---