Cuba is Advancing Bit by Bit and Goes Digital
Submitted by: admin

04 / 26 / 2008
---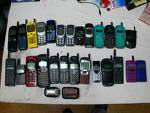 Cuba is advancing bit by bit "but with sure and solid steps" in the "informationalization" of the society, as was recently demonstrated by the extension of services like cell phones and the digitalization of communications across the country.
In a meeting with the press, executives of the Cuban Telecommunications Company (ETECSA), discussed plans to meet the telecommunications needs of the country.
While yet having met the desired levels of service, there is no doubt that modernization is proceeding with palpable advances, as demonstrated by the fact that telephone digitalization has reached 96 percent - a figure that should increase even more this year as improvements are completed.
Growing Cell Use
Currently in Cuba, there are more than 300,000 cellphone users, of which more than 7,400 have obtained the service since general use was authorized just a few weeks ago, according to data provided by ETECSA.
Plans for further development foresee this figure mushrooming to 1.6 million cellphone users over the next five years, for which millions of dollars have already been plowed into the development of the necessary infrastructure, according to Maximo Lafuente Vázquez, the ETECSA vice-president of mobile services.
Outlays have been dedicated to assuring the readiness of equipment and pre-paid cards, as well as to extending the national coverage provided by a network of signal bases, which should surpass 300 across the country this year.
These investments have especially benefited people and entities that until quite recently had lacked access to telephone services, with many of these users located in remote, mountainous locations.
This service allows them, using a conventional phone, to have wireless service. This explains why 68 percent of todays mobile service traffic is by these users, who "for a moderate sum charged in national currency" have up to 400 minutes of conversation monthly.
According to the management of the company, non-subsidized cellular service continues to have relatively high prices so as to generate resources to subsidize the other basic telecommunications services, whose prices are offered in national currency.
ETECSA officials explained that the per minute cost of calls from cellphones to land lines has been maintained at between 0.60 to 0.50 CUC for outgoing calls, and 0.44 to 0.36 CUC for incoming calls.
In the case of cell-to-cell calls, the costs range from 0.50 to 0.40 CUC outgoing to 0.44 to 0.36 CUC incoming. Recently, as a test, there was no charge on cellphones receiving calls from abroad, which permitted an increase in this traffic, since an average of 50,000 calls are received daily in this manner.
Another highly demanded and used service is that of text messages sent by cell phones. Messages sent to a national cell phone cost 0.16 CUC, and those sent abroad, 1.00; but they only charge outgoing messages, which explained the increasing popularity of this service.
Activating a cell phone line costs 111.00 CUC, without including the device or pre-paid calling card, the latter costing from 10.00 to 20.00 CUC.
The quest for quality
Cellphones are not the only "invention" that has arrived in the life of Cuban people. Telephone digitalization "as well as services such are automatic wake up calls, answering machines or access to information networks" has also become part of Cubans daily life, slowly but surely.
This has required an investment in technology and in the training of specialists - a process that has not yet concluded.
The first 32 offices fitted out for the commercialization of cellphone services, a number that is expected to increase to 55, are part of the 183 commercial offices of ETECSA throughout the country.
Despite the reduction in the time it takes to solve problems, there are still complaints related to the treatment of the public, invoicing and even the solutions for equipment failures and line transferrals.
Hilda Arias, ETECSAs Marketing and Commercial vice president, recognized that the service offered still does not have the quality required to meet peoples expectations. She said there are still deficiencies in the complaint resolving process and that there is not an integrated user management system to face the lack of a unified information network. This explains many of the difficulties in invoicing, a process that also is also affected by the problems faced by Cubas postal service, which is in charge of distributing the bills.
In addition to this, there are blackouts, bad weather, infrastructure failures and even vandalism to equipment, which added up to some 3,000 incidences in 2007.
At the end of 2007, Cuba had 1,240,603 phone lines working, including cell phones, alternative fixed phones, and basic and public telephones. The number is still insufficient, but, according to ETECSA, investment to improve this coverage is continuing.
(
www.juventudrebelde.co.cu
)
---
Related News
---