In Havana, Cuba: Failed Counterrevolutionary Provocation a Reduced Group of Mercenary Elements
Submitted by: admin

04 / 23 / 2008
---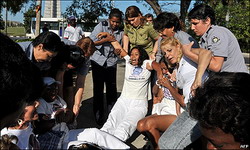 The group intended to demand the release of counterrevolutionaries punished with prison terms for their activities against the Cuban people and for their mercenary and annexation-oriented positions. As it is usual in these cases, the group called the foreign press accredited in Cuba in order to have their provocations published, the article in Granma reads.
The incident was immediately and spontaneously rejected by the people, who were on their way to work centers and schools at that time in the morning. Female forces with the Interior Ministry evacuated the women that attempted to stage provocative action back to their homes in order to avoid a clash with the population.
Some days before the provocation attempt took place, those same counterrevolutionaries had received the support of the US-based Anti-Cuban mafia, which was revealed by a phone called made by US congress woman Ileana Ros-Lehtinen who, with obviously interfering aims, called for the action of such groups as a justification to get the financing granted by the US administration.
Their anti-Cuba and subversive radio station echoed the aforementioned phone contact, as well as some other previous contacts made by the congress woman with renowned terrorist Luis Posada Carriles.
Neither provocations nor mercenary actions carried out in the style of their US masters will damage the firmness and will of today and tomorrow's generations of Cubans, who are working to build a better society, based on the independence and anti-imperialist traditions of their socialist project, and convinced that the usurpation of Cuba's independence, an independence conquered with so much blood, will not happen again, concluded the article published by Granma newspaper.
(
www.cubanews.ain.cu
)
---
Related News
---