Cuba has already produced its first million tons of petroleum.
Submitted by: admin

04 / 17 / 2008
---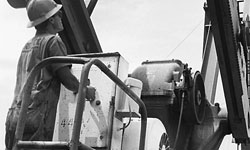 The islands minister of the Basic Industry, Yadira García Vera, reported that Cuba has already produced its first million tons of petroleum as part of its 2008 plan to pump four million tons of crude oil raw and gas.
Speaking with the press after a neighborhood discussion on energy matters, the official explained that the plan for this year is similar in terms of figures for the previous period, except in the case of crude oil production, which has increased by 100,000 tons.
"The progress of the program is very positive, and it says a lot about the results we are obtaining from the seismic studies and new exploration that we are continuing to make. This makes us optimistic that we can continue working in the area of petroleum in Cuba," she pointed out.
García Vera, who is a member of the Political Bureau of the party, also pointed out that new exploration will continue to be carried out in what is referred to as the Cuban crude oil strip, located to the north of the western part of the country. There are said to be strong possibilities of finding new oil-producing sites in that area.
"The seismic work continues to advance. We are conducting seismic studies in an area in the Gulf of Mexico and we should restart drilling there next year," she noted.
The minister also revealed that several US oil companies are interested in that area.
"There have been meetings with businesspeople who have been asking and looking for information; in addition there is information that is public and accessible. They are interested in working in Cuba but they are being blocked," she concluded, referring to the US blockade of Cuba.
(
www.juventudrebelde.co.cu
)
---
Related News
---