V International Danzón Festival Havana 2008
Submitted by: admin

03 / 19 / 2008
---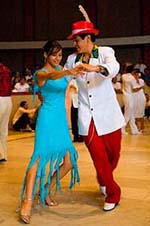 "We start from a more stable relationship with Mexico in the music field, especially in South East Mexico. Cuban orchestras, supported by the Cuban Music Institute, the UNEAC and the Ministry of Culture, travel to the Mexican States of Yucatán, Campeche Quintana Roo and Veracruz to offer their work to a public that love the most authentic of the Cuban music", said José Loyola, the president of the Festival in a press conference.
The famous musician emphasized that the present edition of the event will have the participation of about 120 Mexican dancers and studious who will take part in the theoretical event.
Danzonera Yucatán; Grupo Alebrijes; Academia Tezozomoc; Nueva Generación, de Bacalar (Quintana Roo); Armonía y Sentimiento; Grupo Tepeyac; Tango Ballet and the composer, pianist and singer Ligia Cámara will arrive from the north American country.
The Havana municipality Madruga is the birth place of the Urfé family. The Urfé family has danzón tradition and has contributed to this genre and to keep the danzón as one of the most valuable cultural traditions. This was ratified by Jorge Armando Gutierrez Sanchez, president of the Municipality Assembly of the People's Power.
Danzón Habana will start with a great concert by Danzonera Yucatán, under the direction of Pablo Tapia. The concert will be held at 5:00pm at the Centro Hispanoamericano de Cultura, the location where will also be held the colloquium from the 25 up to the 27 of this month, from 9:00am up to 2:00pm.
The musicologist Alicia Valdés Cantero indicated that 23 exhibitors have confirmed their presence to this meeting, among them 20 Cubans, 2 Mexicans and a Colombian. At the event will be presented 18 presentations and 5 lectures, one of them is a reflection written by Loyola about the significance of the five years of the Festival to the danzon.
Alicia also highlighted the opening of the colloquium by Mery Córdova PhD, with a research about the rhythm as a symbol of Cuban expression and indicated, among other initiatives of the program, the work written by the Colombian musicologist and Professor of the University of Bogotá, Alberto Bermúdez, about the danzon in that country. She also highlighted the conference to be given by Olavo Alén PhD, about the last CD of the orchestra Panorama, titled Afrancesamiento a lo cubano.
The agenda of the Festival (dance, competitions and dance workshops) will be held at the Casa de la Amistad, the Unión Fraternal Society, the Amadeo Roldán and América theatres, the Salón Rosado Benny Moré, Casa Balear and la Trova sin Traba (UNEAC). It will also be held in Havana municipalities of Güines, San Antonio de los Baños, Santa Cruz del Norte and Bejucal.
(
www.granma.co.cu
)
---
Related News
---