With Socialism in Cuba: Woman and Revolution, perfectly go together
Submitted by: admin

03 / 10 / 2008
---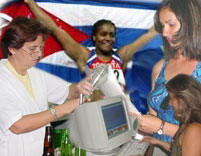 And even when after almost half a century, this people has dignified the postulates of the notable patriot, we still have a long slog ahead of us, so that they can occupy the place of honour they deserve within this socialist society.
In Camaguey, notwithstanding, women represent from 64 to 75 percent of the labour force in sectors such as public health, education, juridical and the bank, whereas professionals abound among them; likewise their presence in the army (Revolutionary Armed Forces FAR and the Interior Minister MININT) is major.
Of course, these indicators respond to a strategy, that being in the fervent argument defended by Fidel Castro during the trial in the aftermath of the attack to the Moncada garrison, became a program for the development of the nation. An ideal that has come true, and is on constant improvement, precisely because the women have played a leading role in todays Cuba.
With their endurance, the women in Camaguey show day after day their commitment toward the Revolution, this immense work which soon will be turning 50 next January.
(
www.cadenagramonte.cubaweb.cu
)
---
Related News
---