Cuban cigar sales rose 7 percent to US$402 million (€270 million) in 2007
Submitted by: admin

02 / 29 / 2008
---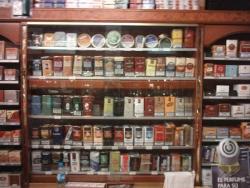 Although smoking bans have made it harder to puff a cigar in many parts of the world, total sales increased regardless, Habanos vice president Manuel Garcia said Wednesday, without giving a reason for the company's gains.
Cuban cigars comprise 80 percent of the world cigar market " not counting the United States, which has had a trade embargo banning Cuban products since 1962. Spain, France, Germany, Switzerland and Cuba's domestic market remained top consumers of Cuban cigars last year, while sales in Canada fell 7 percent, as stricter anti-smoking laws took hold, Garcia said.
Like wine, the taste of top tobacco depends on the soil and climate in which it is grown. Sun-drenched plantations in the humid, western province of Pinar Del Rio have made Cuban cigars famous for centuries. Most produced on the island are hand-rolled and destined for premium sellers.
Habanos S.A., founded as a joint venture in 1994, produces 27 premium cigar brands. Montecristo remained its top-selling stogie last year, although higher-priced Cohibas raked in the greatest profit, Garcia said.
Today on IHT.com
For Obama, a taste of what a long battle holds
A blood thinner might be linked to more deaths
In Norway, Global Seed Vault guards genetic resources
Cohibas, made with two types of tobacco leaf and put through extra fermentation for added flavor, were created in 1966 for Fidel Castro and top Cuban leaders to smoke, and to give as gifts to visiting foreign dignitaries.
But doctors ordered Castro to give up cigars years ago, and Cohibas were first sold on the open market in 1982.
Castro, now 81 and suffering an undisclosed illness, has not been seen in public since undergoing emergency surgery in July 2006. He formally resigned Cuba's presidency last week and was succeeded by his 76-year-old brother Raul.
Habanos is half owned by the Cuban government and half by the Spanish-French tobacco firm Altadis S.A., which was bought in January by Britain's Imperial Tobacco Group PLC for about US$18 billion (€12 billion).
The company does not reveal how many individual cigars it sells a year, but the total is generally believed to be between 150 and 160 million.
Garcia spoke Wednesday at the 10th annual Habanos Festival in Havana, attended by some 1,500 dignitaries, cigar aficionados and dealers who run 133 La Casa del Habano franchise cigar shops around the world.
(
www.iht.com
)
---
Related News
---