Machado Ventura elected Cuba's First Vice President
Submitted by: admin

02 / 24 / 2008
---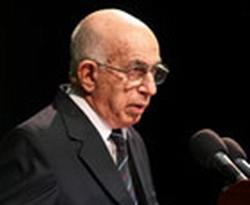 Machado Ventura was born in San Antonio de las Vueltas, Las Villas. He began his revolutionary activities from the same day of the coup d'etat on March 10, 1952, when he was a medical student at the University of Havana.
He participated in activities oriented by University Student Federation. Graduated as a doctor of medicine, he maintains revolutionary commitments and ties as a member of 26th of July Movement.
He later integrated with the guerrillas in the Sierra Maestra, as a member of Front IV under the orders of Commander Ernesto Che Guevara, and later in Front I under the orders of Commander in Chief Fidel Castro.
On March 1958 he was selected to be part of the column under the the orders of Commander Raul Castro Ruz to establish the Second Front.
He was promoted to captain and assigned the task of organizing the Department of Military Health.
He established a wide network of hospitals and clinics that provided medical assistance to the Rebel Army and in to a great extent to the population in the current provinces of Guantanamo, Santiago of Cuba and Holguin.
Since January 1, 1959 he has assumed various responsibilities including assistant to the president, head of medical services in Havana, chief of the Revolutionary Armed Forces medical services, and public health minister (1960-1967).
Machado Ventura became member of the Communist Party's (PCC) Central Committee upon its constitution in 1965. In January 1968, he was designated delegate of the Political Bureau in Matanzas Province, and in June 1971 he became first secretary of the PCC Havana Provincial Committee.
During the first PCC Congress in December 1975, he was ratified in the Central Committee, and elected member of the Political Bureau, a post he kept in the next congresses.
He was elected member of the Central Committee's secretariat during its third plenary session in November 1976, and of the organizing committee of the fourth PCC Congress.
When the People's Power National Assembly was established in December 1976, he was appointed member of the Council of State. He is deputy for Guantanamo municipality. In 1981, 1986 and 1993, the People's Power National Assembly ratified him as member of the Council of State.
He has traveled to different countries fulfilling missions of the party and government, and has been granted several medals and distinctions for his outstanding revolutionary conviction.
Source: Prensa Latina
---
Related News
---