Fidel Gave a Lesson in Political Ethics
Submitted by: admin

02 / 23 / 2008
---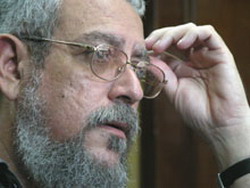 On Tuesday, Fidel Castro gave one of the greatest lessons in political ethics, detachment and personal sacrifice, in a world where these qualities seems obsolete. This was discussed on Wednesday by Cuban intellectual Eliades Acosta Matos, head of the Department of Culture of the Central Committee of the Party, during the presentation of his book 20th Century Militant Intellectuals.
At the Cabaña fortress, overlooking the city, Acosta Matos highlighted the revolutionary leader's expression in a world where people stay in power to take advantage of their position so as to take advantage of privileges, exploit and enrich themselves. "Fidel is what motivates us to work, fight, persevere and to create - to learn and to share," he said. "Fidel symbolizes why we are here. The 'great victory of Tuesday, and of what he represents, was the reaction of people when they heard the news. We are in a climate of serenity, trust, and even renewed force," said the outstanding essayist.
Published by the Casa Editora Abril, with a foreword by Office of the Marti Programs president Armando Hart Dávila, 20th Century Intellectuals is part of a trilogy that began with The Gospel According to San George. The set will close with Imperialism in the 21st Century: The Cultural Wars, a volume that the author hopes to present in the next Havana book fair, said Rubén Zardoya Loureda, president of the University of Havana.
The latest book, described by Zardoya as "authentic fruit of thought," demonstrates the existence of a tradition of revolutionary intellectuals social commitment to their time. "It defends and continues everything to which Fidel has dedicated his life and will continue dedicating it," emphasized Acosta Matos at the 17 International Havana Book Fair (FIL).
In addition, at today's activities at the FIL, the 2007 "Against the Current of Thought" (Premio Pensar a Contracorriente) award will be presented, along with the Internacional de Cuento Julio Cortázar.
Fuente: Juventud Rebelde
---
Related News
---