Spanish flamenco singer Diego Jiménez Salazar, worldwide known as Cigala, keeps singing Cuban "sones".
Submitted by: admin

02 / 21 / 2008
---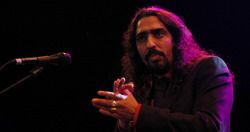 The cantaor was thus promoting his latest recording of the same name. According to Cigala, flamenco is "so rich it needs no to fuse with anything else". He added he keeps singing Cuban "sones" because they allow them to continue "being flamenco", for he harbors the same feelings toward songs by Cuban Rolando Laserie as for Juan Talegas flamenco singing.
In "Two Tears", his latest release, the cantaor has gathered all his experiences following the success of his previous CD "Lágrimas Negras" (Black Tears), which introduced him to audiences at world scale. The excellence of the new CD rests mainly on recorded performances and his continuous trips in the company of Cuban musicians.
Another factor contributing to Cigalas admiration for Cuban music and musicians was his live appearance before some 6,000 spectators in Havana, one milestone in his artistic life, as he later admitted to the press. On that occasion, Cuban pianist Chucho Valdés was leading the local accompanying ensemble, which also included Jorge Reyes at bass, and Changuito at kettledrums.
This second recording is no a sequel to Lágrimas Negras, but the results of his experiences with Cuban music, into which he will continue to rummage, he added, until "our tear ducts get dry." Veteran percussionist José Luis Quintana, aka as Changuito, on his part, has made public his decision to embark on new musical ventures with Cigala.
Renowned Cuban pianist Guillermo Rubalcaba, another veteran musician who has joined the Cigala ranks on his small Spanish tour, said that never before had Cuban music and flamenco come this close, and was quick to remark the audiences warm reception. "This, he enthused, is something different, of high quality."
Despite the omnipresence of Cuban sounds all night long, Cigala belt out different types of songs, from variety to tangos, and plenty of Spanish fare, including flamenco-styled -just singing and one guitar- melodies as soleades, alegrías, fandangos and bulerías. "All of them, he noted, are essential for our hearts."
(
www.cubanow.net
)
---
Related News
---