The People say: "There is no surprise, This is the correct decision," referring to Mr. Castros declaration.
Submitted by: admin

02 / 20 / 2008
---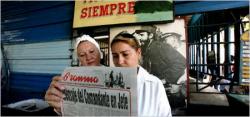 It is expected that his brother Raúl, 76, will be officially named president, and some experts consider him more pragmatic.
Raúl Castro has talked about bringing more accountability to government and possibly working to improve relations with the United States. But since taking over temporarily in the summer of 2006, he has largely operated in his brothers shadow, and, except for facilitating huge investments by Canadian and European resort developers here, he has brought about little change.
Under Cubas Constitution, a newly chosen legislative body, the National Assembly, is scheduled to select a 31-member Council of State on Sunday. In turn, the new council will pick the next president. Fidel Castro said he would not accept the position even if it were offered to him.
In a letter of resignation read over early morning radio and television programs across the country, the 81-year-old Mr. Castro " who has appeared frail in the few videos released by the Cuban government " was said to be too ill to continue as head of state and would not stand in the way of others who were ready to take over, a sentiment he first expressed last December.
Experts on Cuban politics say the decision on a successor remains in the hands of the Castro brothers and their inner circle, many of whom hold cabinet positions. Others said that a younger president could be brought in or that the posts of prime minister and president could be divided between Raúl Castro and one of the ministers.
It was not clear what role, if any, Fidel Castro would play in a new government, or whether he would retain other powerful positions, including head of the Communist Party. But he signaled that he was not yet ready to completely exit the stage.
"I am not saying goodbye to you," said Mr. Castro in the letter written under his name and addressed to the Cuban people. "I only wish to fight as a soldier of ideas."
The confusion of analysts in both Cuba and the United States about the extent to which Mr. Castro would withdraw from day-to-day government operations or continue to wield power from behind the scenes was reflected in the mix of opinions of people from the luxury beaches at the seaside resort of Varadero to the central park of Old Havana.
Cubas leading dissident tried to dampen expectations.
"This isnt news," said the dissident, Elizardo Sánchez, after learning from friends that Mr. Castro was ceding power. "It was expected and it does nothing to change the human rights situation, which continues to be unfavorable, or to end the one-party state. Theres no reason to celebrate."
The pace of ordinary Cuban life continued.
In Varadero, workers collected garbage and cleaned pools as they normally would. On the highway, workers whitewashed barriers. In the seaside city of Matanzas, Eliana Lopez, a 55-year-old transportation inspector who had heard the news on her way to work, said she expected the revolution to continue, with change coming slowly but surely.
(
www.nytimes.com
)
---
Related News
---