A Soloist with Choral Answers: Miguel Barnet.
Submitted by: admin

02 / 19 / 2008
---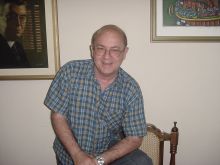 He collects lives of others: they do not weigh in the pocket and take no room at home.
Miguel Barnet stands his ground. He still insists in writing by hand while wearing a cap to keep his head warm. He says that all great literature is handwritten and fears computers because when a sentence appears on the screen, he starts to see it as something definitive, categorical, and is unable to move on. It deprives him from the pleasure of the white page filling with signs, the joy of crumpling the sheet in his hands, which is just like killing an imperfect creature to replace it by a healthy one. That was how he tore, not without pain, the three hundred sheets of paper of the first version of his novel Oficio de Angel, which he began in 1975. He knew he would start it over sometime and years later, in 1987, in an ugly hotel in Valencia, Spain, he took a piece of paper and wrote: "And river times began. And surface water was never calm again. And night became day..."
He is one of the most prominent living figures in Cuban literature and one of the most widely read. Last year he was granted in Chile the important Donoso Award for his oeuvre. This, according to some critics, is the prelude to the Cervantes Award. An anthology of his poetic work, some twenty unpublished poems, will soon appear with the title Itinerario inconcluso. Tele Madrid and Tele Sur will soon produce Biography of a Run Away Slave, a documentary film for TV by Spanish director Angel Pelaez with a script by Juan Carlos Tabio (Strawberry and Chocolate).
He is just back from Madrid, where he held some meetings with the filmmakers. He is very enthusiastic about the film, but knows that it is film directors who take decisions with their materials while writers remain in the background. He has already lived through that experience. Apart from having written scripts for some documentary films, he worked in the six versions of the script for Gallego, based on his novel of the same title, and collaborated with his cousin, filmmaker Enrique Pineda Barnet in The Beauty of Alhambra, a film based on his novel La canción de Raquel. The film received the Goya Award.
"The Beauty of Alhambra will forever be the great Cuban musical," he says. He expected more from it. He wanted it to reflect the counterpoint view that the book makes evident, but it is a lineal, chronological, easier to digest film and it was quite an achievement in this sense. "The first thirty or forty minutes of Gallego, a film with important performers, are memorable, but then it wanes. The fact that actor Sancho Garcia, who plays the main character, does not age the way he should as time goes by, weakens the story. This is especially evident in the final scene, when he hugs his Cuban grandson on the sea wall. His being a very young grandfather weakens the impact. But even so it is a foundational film," he stresses. "It will be the poetic statement of Galician immigration in Cuba."
For several reasons, Barnet was elated when he arrived from Madrid. It was Christmas and he saw a children chorus singing carols on the streets. He immediately joined those singing these songs he had learned in his childhood and accompanied them for quite a stretch. He has a beautiful voice and if he had not been a writer, he would have liked to sing opera. "The children were singing in Spanish and I sang in English. I guess they took me for a mad old man. Today Christmases are made of plastic and synthetic materials. I miss the smell of those real pines we had in Christmas."
He is 68 years old. He created himself an extroverted personality for others to see. Actually, he is a melancholic man, a sad man who is always happy. He enjoys intelligent walks and deserted beaches. He collects lives of others, such as those of the run away slave, Rachel the chorus girl, the émigré Galician... They do not weigh in the pocket and take no room at home.
The writer lives by himself. His dogs are his only company. And although he does not cook for himself, he cooks for them. When he does not eat out, he just has a little tuna and bread, some jelly and a couple of dietetic sodas. "I cannot make myself coffee," he says. He does not complain. "I enjoy solitude. I am a deputy to the Parliament and have responsibilities in my countrys cultural life. That leaves me little time for myself. I must make good use of it to write and read. Having people at home disturbs me too much. But I am not alone. The voices of my forefathers resound in me and also those of my informers, like in the antiphonal choruses in ancient Greece. I am just a soloist receiving choral answers."
AN UNREPETIBLE AND UNAVOIDABLE BOOK
Run Away Slave is Miguel Barnets best known novel. He published it in 1966 and has already been put into print 73 times, in Spanish and other common and uncommon languages. It was taken to the stage and served as inspiration for several composers. La canción de Raquel (1969) and Gallego (1983) followed as parts of the same project of testimonial novels with which he wanted to approach the fundamental nourishing elements in Cuba: Spanish, African and its product: Creole. Thus, he sees in Rachel as a synthesis of the nation. Another of his novels, La vida real (1986), on a Cuban peasant in the United States, completed his ethnical and historical panoramic view of Cuba. It was the corollary to this project covering national idiosyncrasy. His next novel, Oficio de angel (1989), is different but the same thing once again. It is the book where the writer has put more of himself, of his aesthetics and his taste for language. It is an autobiographical novel, very close to his book of poems La sagrada familia (1967), but since it is autobiographical, it is also a testimony because, he says, "this is the only thing I have done throughout my life."
The slave who runs away from his masters and finds freedom in his own terms, Esteban Montejo, the main character in Barnets books, was the last of the run away slaves surviving in America. In 1963, he was 104 years old and was living in an old peoples home when the writer heard of him by mere chance. But this chance occurrence coincided with his need to research dark areas in Cuban history and in slavery. That is why Barnet thinks that the book is not only unrepeatable, but also unavoidable. It made him discover an unexplored area in Cuban literature and rescue voices that were buried or kept away. It was an element missing from our literature and it is unexplainable that it had not been unburied earlier.
Biography of a Run Away Slave offered Barnet much happiness and many rewards. Today Esteban Montejo is for Miguel Barnet not the main character is his book, but a person who is always with him, a musical shadow. Pictures, posters and book covers with his image are repeatedly found in his house, even in his bedroom, where his picture is hanging next to several crucifixes near his bed. The Virgin of Charity, Cubas patron saint, by primitive painter Lawrence Zuniga, hangs on another wall.
WITH CATS FEET
Barnet is especially fond of his books of poetry. With La piedrafina y el pavo real, Isla de güijes, Carta de noche and Viendo mi vida pasar, among others, he wanted to turn life into a poem, to endow with immense light what is dark and small, to find some necessary codes that may contribute to an understanding of the "I" and the "we." La sagrada familia gave rise to an actual commotion in Cuban poetry of its times and of the times that followed. According to poet Eliseo Diego, each of the poems the collection contains is endowed with a secure instinct and a living and irreversible structure advancing at its own pace, very distant from the exhausted traits prevailing in poetry during those years. Con pies de gato (1993), a polished selection of his poems, confirmed him as one of the most organic and well-finished voices in a country where good and excellent poets are many and even too many.
In spite of the writers preference for his poetry, it is evident that it was novels that made him famous and took him, at the suggestion of Manuel Alvar, to his position in the Cuban Academy of Language, corresponding to the Royal Spanish Academy, in the times poet Dulce Maria Loynaz headed it. Barnet is proud of his membership in that institution and, the big - but still growing - child he is, loves its meetings, above all those in which linguists offer their ideas "because I did not study letters, but anthropology and listening to them is like going to school, a school for adults."
He keeps very fond memories of Dulce María Loynaz, "who loved me very much." Together with Lisandro Otero and Eusebio Leal, also members of the Academy, he accompanied her to Madrid in 1992 to receive the Cervantes Award. "It was terribly cold and I bought her a coat. Dulce said: 'Cold in Madrid does not put out a candle, but may put out a life. And, actually, she required urgent hospital care.
Three Cubans have received the Cervantes award: Dulce Maria Loynaz, Alejo Carpentier and Guillermo Cabrera Infante. Will Miguel Barnet be the fourth? He does not believe so. With surprising and unsuspected modesty, he says that he does not even have that possibility in mind and, for the moment, since he has no time for a new novel, he is still anchored to poetry.
(
www.cubanow.net
)
---
Related News
---