Cuba vs Key West for tourists?
Submitted by: admin

02 / 17 / 2008
---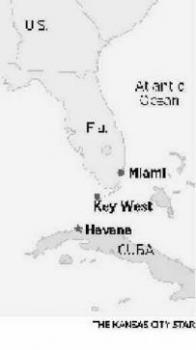 But now Key Wests much-ballyhooed connection with Cuba has some folks worried.
With Cuban dictator Fidel Castro ailing and a U.S. presidential election looming, many speculate that change, perhaps dramatic, might soon surface in the half-century old standoff between the United States and communist Cuba.
"Americans are going to be so curious and are going to want to go to Cuba," said Harold Wheeler, head of the Monroe County Tourist Development Council. "I dont see it as a threat, but you have to be prepared and have a plan available to offset any potential negative impacts."
Should Cuba undergo radical, rapid change, Key West could see anything from a chaotic influx of Cuban-Americans hoping to make their way by boat to Cuba to a sudden drop in vital tourist bookings as Americans flock to the long-forbidden island, forgoing more familiar domestic destinations.
A 2002 study by the University of Colorado projected that up to 1 million Americans would visit Cuba in the first year should the island open to the United States, with the numbers leaping to 3 million within five years. Another study found one in five Florida tourists surveyed would choose Cuba over Florida as a vacation destination.
For now, though, those surveys are simply speculation.
A new American president would not guarantee any change in the nearly five-decade-old U.S. embargo against Cuba. Some people think a Democratic administration might relax the restrictions on travel to Cuba by U.S. citizens, although nothing is certain.
During the Clinton administration, Americans were allowed to visit Cuba on cultural and educational exchange trips, and tens of thousands took advantage of the opportunity. But those exchanges have been severely curtailed by President Bush.
Government officials have not been sitting on their hands waiting to see what happens. Federal, state and local agencies have drawn up elaborate plans to deal with a sudden Cuba opening. The U.S. Coast Guard would step up patrols across the Straits of Florida, while law enforcement officials on land would increase traffic controls and regulate access to marinas.
The Keys, meanwhile, would embark on a public relations campaign with the dual purpose of assuring American tourists that the island chain was still open and ready for their visits, while also proposing that Americans might want to use Key West as a jumping-off point for trips to Cuba, just 90 miles away.
"I call it, 'Two nations, one vacation, the Keys plus Cuba, " Wheeler said. "People could stay here and do excursions to Cuba."
Wheeler and other Keys officials visited Havana in 2005. They came away believing the communist islands poverty and dilapidated infrastructure might quickly turn off many Americans.
"They have some nice hotels, but overall youre impressed by how poor the country is and how bad a shape the economy and infrastructure is in," he said. "I believe after the first Americans visited, word-of-mouth would spread that Cuba isnt ready for a large influx of Americans."
For all the speculation, some longtime Key West residents say they fear little from a Cuba opening, noting that Key West has changed a great deal in recent years.
"Key West is high-end now," said Jerry Morgan, 72, who has lived here for 30 years and runs Sams Treasure Chest gift shop. "We have a shortage of hotel rooms, and a lot of wealthy people have moved here or have second homes here. Tourism is still important.
(
www.kansascity.com
)
---
Related News
---