A Politically Incorrect Cuban Joke
Submitted by: admin

02 / 11 / 2008
---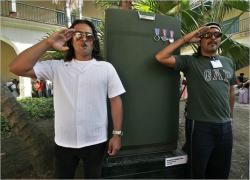 "They took away my señor and replaced him with a little guy," said a 47-year-old cook who lives in the Reparto Zamora district in western Havana. Welcoming a visitor to her kitchen, she pointed to the slim, white Chinese-made Haier that had taken the place of the bulky, pink Frigidaire that had been in her family for 24 years.
She called herself Moraima Hernández, but indicated with a wink that she was concealing her real name " the only way she felt able to speak without fear of retaliation. Well, up to a point. She declined to say why she felt Mr. Castro was casting a shadow over items as banal as household appliances.
Instead, she simply opened the Haier to reveal its meager contents: bottles of tap water, a few eggs, mustard, half an avocado and some "textured picadillo," soy protein mixed with a bit of ground beef.
Her old refrigerator was so big, she said nostalgically, that two legs of pork could fit inside.
Inspired by the ingenuity it took to keep American refrigerators working so long, a group of Cuban artists last year transformed 52 of them into art. They put on a show called "Instruction Manual" that was a big hit in Cuba and is making the rounds in Europe this year.
In the show, the artists Alejandro and Esteban Leyva pinned medals on an old G.E. refrigerator, painted it olive drab and named it "General Eléctrico." Another artist, Alexis Leyva, installed oars on his refrigerator, drawing on the politically loaded symbol of the homemade boats Cubans use to leave the island illegally.
Ernesto García Peña, a painter, turned his into an eroticized female image. "In this heat," he explained, "the refrigerator is almost worshiped for its role as an absolute necessity of modern life. We treat it with very special affection."
(
www.artdiamondblog.com
)
---
Related News
---