New Cuban Chess Champion: Yuniesky Quesada, Grand Master from the central Cuban province of Villa Clara
Submitted by: admin

02 / 01 / 2008
---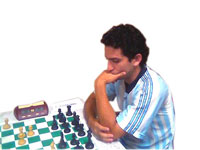 The defeated his opponent with a sixty-move Sicilian Defense and secured a place on the team that will attend the next Chess Olympics
Yuniesky used a traditional method: defending first with black pieces and then with white pieces to win against an inspired rival who never gave in. It seemed as if the Wednesday game was going to end in draw until the Santa Clara youth was given an opportunity and was able to beat his contender in 60 moves with a Sicilian Defense, reported Luis Salabarría.
The rising king did not play against former champion GM Lázaro Bruzón (2607) since the latter was eliminated by Lelys in the semi-finals; nor did he go against Cubas undisputed ranking leader GM Leinier Domínguez (2691), who fell ill and couldnt participate. Nevertheless, these occurrences cannot take the credit away from him. The prize couldnt have been better; he now belongs to the Cuban Team that will attend next Chess Olympic Games in November.
To the readers who asked for information on the 2008 Corus Tournament, which concluded last Sunday in Wijk aan Zee, Holland, we can confirm that it was won by Armenias Levon Aronian (2739) and "wonder boy" Magnus Carlsen (2733); they both gained eight points out of thirteen possible.
The competition "considered to be among the four most important ones worldwide" gathered an outstanding list of players lead by the best global rankers: present world leaders Vishy Anand (2799) from India and Russias Vladimir Kramnik (2799). Other important players participated included Vesselin Topalov (2780) from Bulgaria, Shakhriyar Mamedyanov (2760) and Teimour Radjabov (2735) from Azerbaijan, Peter Leko (2753) from Hungary, Vassily Ivanchuk (2751) from the Ukraine, Boris Gelfand (2737) from Israel, Michael Adams (2726) from Great Britain and Judit Polgar (2707) from Hungary.
Only two players were below the 2700 ELO: Pavel Eljianov (2692) from the Ukraine and Hollands several-time champion Loek Van Wely (2681).
Sin embargo, contra viento y marea, Aronian y Carlsen lograron empinarse. El primero tuvo un coeficiente de desempate ligeramente superior (50 puntos por 48.50), pero el segundo logró más victorias (cinco por cuatro). Las demás posiciones fueron como sigue: Anand y Radjabov (7.5 unidades), Leko e Ivanchuk (7), Kramnik y Adams (6,5), Topalov, Polgar y Mamedyanov (6), Eljanov, Gelfand y Van Wely (5).
However, Aronian and Carlsen rose against all odds. The former had a slightly higher breakthrough coefficient (50 points over 48.50), but the latter achieved more victories (five over four). The rest of the ranks stood as follows: Anand and Radjabov (7.5 units), Leko and Ivanchuk (7), Kramnik and Adams (6.5), Topalov, Polgar and Mamedyanov (6), Eljanov, Gelfand and Van Wely (5).
Once again Kramnik and Topalov "who did not shake hands before their match in the ninth round" got all of the attention beyond the chessboard. The match was won by the Bulgarian, with all happening according to the norms of the game - though neither offered to shake hands; they just ignored each other.
Still, in group B, Ivan Cheparinov (2713) lost against the British player Nigel Short (2645) for having refused to shake his opponents hand, which he offered twice.
De tal manera, el registro oficial del torneo archivó esta escueta descripción del encuentro: 1. e4 c5. (1-0). Más tarde, el Comité de Apelación obligó a Cheparinov a disculparse por escrito. Y Kramnik estaba en el tribunal...
Thus, the official tournament record registered this brief description of the match: 1. e4 c5. (1-0). Later, the Appeals Committee forced Cheparinov to apologize in writing. Kramnik was in the jury...
(
www.juventudrebelde.co.cu
)
---
Related News
---