The National Sport of Cuba: Recognition for Cuban Umpires
Submitted by: admin

02 / 01 / 2008
---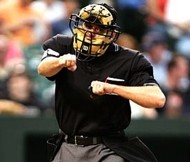 Baseball, as it is well-known, is the national sport of Cuba because it is part of the peoples culture. The fanatics can be counted in the millions, directing their attention toward the sluggers. However, there is another uniformed team on the field: the umpires who no one notices except for when there occurs a close play - then the wrangling explodes.
"Crooks!" "Are they blind?" "When are they going on break?" With Havanas Latin American Stadium almost deserted "because the Metros played instead of the hometown favorites, the Industriales" these and other insults resounded in the night. However, the judges were not intimidated. On the contrary, consistent with the ethics of their work, they responded with supreme professionalism and tolerance.
From a poll made among fans, we found that many assume offending the umpires is just a part of Cuban culture. Nevertheless, some recognized that there are people who go to the stadium seeking problems instead of amusement.
"We should be impartial and not pay attention to fan pressure, because most of them come to the stadium just to scream. If I make a mistake I have to get over it and make sure it doesnt happens again; the important thing is to concentrate on the field, and to be focused on each play," asserted Wilfredo Hernández, who managed Umpire Group 8 in the Cuban National Series presently underway.
Certainly there are costly mistakes, mainly in very tight and decisive games. The umpires themselves recognize this and complain that they dont have slow-motion cameras to capture their decisions with exactitude, as occurs in Mexico, the United States and Japan, where support crews are in charge of recording all games to detect errors and to correct them when necessary.
As for the option of revoking a decision when an error is recognized, an umpiring norm in Cuba impedes this.
Nevertheless, after each game the whole team meets to analyze their work, and generally they are receptive to the calls of the umpires.
Experienced and fair
The appreciation of Cuban umpires as being experienced and fair has contributed considerably to elevate their level, especially if we understand that most of those who today participate in international competition have received intense practical training.
Prior to 2001 in Cuba, their existed no school for baseball arbitration; therefore, the most experienced judges on the island came mostly from groups of baseball fans, or from those who had had jobs related to sports. Their inclination for athletics allowed them to pass courses within a short period of time in order to participate in the National Series.
"I was player with the Sugar Caners, from Las Villas province. After undergoing jaw surgery, I stopped competing. Nonetheless, I wanted to continue in baseball, so I began my first umpires course in Las Tunas in 1981. At that time there were no schools, only training that given every year. We began with the provincial series, but since I got the best grades in my class, I was invited to participate in the national series. The teachers were well-known umpires," recalled Wilfredo Hernández.
Much has occurred since then, and 12 Cuban officials now belong to the International Federation of Baseball. Two of them will represent the island in the baseball tournament in the Beijing Olympic Games. This is the case with both Nelson Díaz and Juan José Cuevas.
However, there is a need to renovate the aging system of Cuban sports arbitration with professionals whose stature is up to those of their predecessors. With that aim, in 2001 the Manuel de la Paz School of Umpire Training was created in Villa Clara.
To enroll in the school it was necessary to be under 35 years and to have graduated from high school. Each province carried out a selection process through regional courses and sent the most qualified graduates to Villa Clara for further training, where they studied four years. Currently, the academic system maintains its same standards, although the management is considering the possibility of upgrading the coursework to that of a university level.
The instruction given at the Manuel de la Paz School is a balance between theory and practice, because for three years the students devote themselves to learning of rules of baseball and of arbitration, as well as some basic coursework of formal education. To this is added the study of languages, for which Cuban judges are internationally recognized.
With a national center having been established, all of the provinces of the country have experienced the doors of that institution being open for the training of their local umpires. In this way, the regional series do not need to specify the participation of national judges, but rather these can be provided from among young graduates from the school. "This is an excellent opportunity to complete and 'polish the preparation of an umpire," said Wilfredo Hernández. "Since they dont have several years of experience on the field, those umpires should not begin in the National Series," he insists.
"Many of these youths have the ability to do good work, but umpiring demands a lot of experience. We dont assign them to difficult games, nor are they stationed at home plate, however, they are allowed to apply what they lean in less complicated games, and as the years pass, they assume greater responsibilities," he explained.
Another merit of the school consists in overcoming prejudices that limit the full development of women in participating in a profession like this. A proof of this is Yanet Moreno, the sole woman umpire in the country; she graduated from the Villa Clara facility three years ago.
"For a long time I was playing softball, and three or four years after leaving it I began with hardball. That was until they established the age limit. Up to that time, I had already served as a softball umpire in workers tournaments, so they decided that I should enroll in the umpire school," recounted 32-year-old Yanet, who "by the way" doesnt feel uncomfortable being surrounded by men.
"At the beginning, the players were a bit shocked to see a woman on the field. It was something outside the norm, but they have now adapted and respect me," said Yanet.
In short, it doesnt matter if the umpires are men, women, youth or experienced veterans. They deserve the recognition of athletes, trainers and fans. Without them, there would be no baseball; and their level cannot be lowered if we want to see high-level performances from the players. What happens is that they end up being like in-laws, whose merits people usually remain silent about but whose defects top their list of complaints.
(
www.juventudrebelde.co.cu
)
---
Related News
---