Here, troubadour Silvio Rodríguez received a copy of the Shield in Camagüey, Cuba.
Submitted by: admin

02 / 01 / 2008
---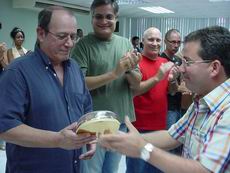 The condition of "Hijo Adoptivo" was granted to singers Amaury Pérez Vidal and Vicente Feliú, moviemaker Lester Hamlet, writer Reynaldo Rodríguez, and painter Ernesto Rancaño; so, the distinction 493rd Anniversary of the Foundation of Santa María del Puerto del Príncipe was given to vocal quartet "Sexto Sentido", musical artist Alexis Díaz Pimienta, and the technical staff respectively.
At Hotel Camagüeys Avellaneda Hall, this Cuban musician thanked on behalf their colleagues all the awards and acknowledgments granted by the Municipal Assembly of the People's Power in this province, so he considered his own one as " a rise", while making reference to his condition of Honorable Guest in this city, given during 490th anniversary of Camagüey.
He qualified all those concerts at penitentiary centers as a kind of human practice, where an improvement in the living conditions of convicts can be clearly noticed; this fact makes him feel proud of the Cuban Revolution for being so fair and legal.
Later that afternoon, they gave another concert as a continuity of the project started during the 90s in the western part of the Island. Then he offered 11 concerts for more than 12 000 prisoners.
He also remembered those concerts given at women penitentiary center of this province during the 70s, while one of those "Nueva Trova" Festivities was taking place.
(
www.adelante.cu
)
---
Related News
---