Lincoln Chief commissioned to Ensign: Born in Havana, Cuba
Submitted by: admin

02 / 01 / 2008
---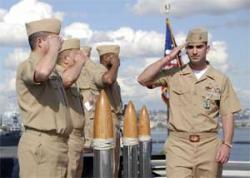 Two years later, Diaz enlisted in the United States Navy and, through an extraordinary effort, made his way up the ladder to the esteemed rank of chief petty officer.
Diaz reached the next level of his career in just more than six years on Jan. 22 when he was commissioned to the rank of Ensign. Having been on board USS Abraham Lincoln (CVN 72) for three years, his most noteworthy job was as the Crash and Salvage Division leading chief petty officer.
"I didnt get here by myself. This isnt about me," Diaz said. "What did get me here were the people above me and below me."
Diaz recalled his time in the Chiefs Mess. "Im going to really miss the camaraderie," he said. He took the time to acknowledge the many different people who had brought him to this point. "One of the biggest players was my LPO," Diaz said.
Taking the big step from the Chiefs Mess to the Wardroom was not an easy one for Diaz, but he said it was one in the right direction.
"I would call it bittersweet," he said. "It is kind of like when you turn 18 and you dont want to leave home but you know you have to."
The ceremony was held on Lincolns flight deck. Lt. Charlie Ardinger, of Lincolns Air department acted as the master-of-ceremonies, Cmdr. Paul Erickson, Lincolns Weapons department head and senior "mustang," or prior enlisted officer, gave Diaz the Oath of Office and the honorary first salute went to Aviation Boatswains Mate 1st Class (AW) Billy Ramirez.
Diaz encouraged young Sailors to take the first steps in their lives so that the road ahead will be paved with success.
"Getting to the top wasnt easy," Diaz said. "You have to strive to accomplish your dreams, but do not get so caught up on your own dreams that you forget the people behind you."
(
www.northwestnavigator.com
)
---
Related News
---