Since arriving from Cuba via Colombia in 1993, Albita has earned popular and critical acclaim in Miami.
Submitted by: admin

01 / 30 / 2008
---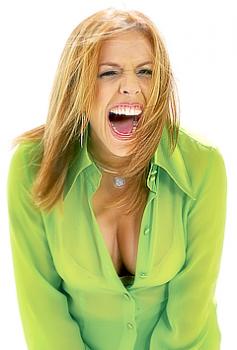 But the strawberry-blond Albita, who goes by only her first name, invited them to defy the ban.
"Take pictures and tape all you want," she said in October at Queens College. "Because if one cant get played on the radio, I dont care if you buy fewer records. This way you can hear the music you like."
Defying convention with megawatt charm has been typical in the career of the Cuban-born singer, who combines cabaret stagecraft with pop crispness and improvisation skills " equally rooted in rural Cuban traditions and vintage big band jazz.
She returns to New York tomorrow for an intimate concert at S.O.B.s, promoting her recent release, the CD/DVD, "Live at the Colony Theater."
The show, recorded in Miami in late 2006, includes sones and cabaret standards like "La Vie en Rose" and was nominated for a 2007 Latin Grammy.
"Im very happy to be returning to New York," Albita says in Spanish from her Miami offices. "Ive been going sporadically for many years, but now I want to make it a more regular thing."
Since arriving from Cuba via Colombia in 1993, Albita has earned popular and critical acclaim " seven of the eight records shes released in the U.S. have been nominated for Latin Grammys.
Her 2004 album, "Albita Llegó," the first released under her own label, Angel Dawn Records, won for Best Contemporary Tropical Album.
An androgynous siren whose looks sometimes resemble a Cuban Annie Lennox and whose voice recalls a young Sarah Vaughan, Albitas performances and songs cross traditional Cuban bolero and son with Cuban-accented salsa hip shakers and sexy torch songs.
When she moved to Miami, Albita became a cult figure with celebrity fans like Madonna and Gianni Versace performing in Little Havanas Calle Ocho, where she just purchased a recording studio.
The Miami music moguls, and fellow Cubans, Gloria and Emilio Estefan took her under their wing and produced her first U.S. record, "No Se Parece a Nada."
Despite rumors to the contrary, Albitas acrimonious split with Sony in 2003 did not include the Estefans. "His company still has my authors rights. My split was with Sony," she said. "The man in charge of the division didnt like my record, and wouldnt give me a release. We spent two years in that fight, I even had to put my house up to pay my lawyer."
Controlling her own affairs suits her, she said. It has enabled her to make unorthodox career decisions such as giving half the profits of "Live" to the Miami-based League Against Cancer, a nonprofit that offers low-cost cancer treatment to uninsured and low-income South Florida residents.
"The record was a bit expensive to make, and I decided to offer half to the League so that people wouldnt feel so bad spending $25 on it," said Albita. "And we decided to offer it only through our Web site and through the League so that people would feel more secure about where their money was going."
In the new Internet-aided music economy, Albita believes that performing as often as possible is key for artists to direct their own success.
"The music industry is in crisis, but I think musicians have a lot more in their favor now, as long as they stay close to their audience," she said. "And thats me " the one thing I cant bear is to be away from my fans."
(
www.nydailynews.com
)
---
Related News
---