Virtually Every Square Foot of Cuba's is owned by the socialist state
Submitted by: admin

01 / 28 / 2008
---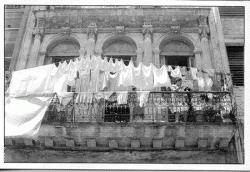 But the people of Havana, it turns out, are as obsessed with real estate as, say, condo-crazy New Yorkers, and have similar dreams of more elbow room, not to mention the desire for hot water, their own toilets and roofs that do not let the rain seep indoors.
And although there is no Century 21 here, there is a bustling underground market in homes and apartments, which has given rise to agents (illegal ones), speculators (they are illegal, too) and scams (which range from praising a dive as a dream house to backing out of a deal at the closing and pocketing the cash).
The whole enterprise is quintessentially Cuban, socialist on its face but really a black market involving equal parts drama and dinero, sometimes as much as $50,000 or more.
These days, insiders say, prices are on the rise as people try to get their hands on historic homes in anticipation of a time when private property may return to Cuba. Exiles in Miami are also getting into the act, Cubans say, sending money to relatives on the island to help them upgrade their homes.
Officially, buying or selling property is forbidden. But the island has a dire housing shortage, despite government-sponsored new construction. And that has led many Cubans to subdivide their often decaying dwellings or to upgrade their surroundings through a decades-old bartering scheme known in Cuban slang as permuta.
Some of those housing transactions are simple swaps. Those the government permits, tracking each one to keep an up-to-date record of the location of every last Cuban. Many moves, however, are illegal and involve trading up or down, with one party compensating, with money, another party giving up better property.
A 1983 film, "Se Permuta," portrays how complex the system can get: A mother scheming to get her daughter away from a boyfriend she dislikes organizes a multipronged property swap. Of course, the deal, which would have involved about a dozen people and taken mother and daughter from a tiny apartment into a spacious colonial-era house, ends up in a mess, as does the mothers meddling in her daughters love life.
"Its very Cuban," Juan Carlos Tabío, who wrote and directed the film, said of his countrys real estate bartering process. "There arent enough houses, and families cant buy them. So they trade."
Mr. Tabío has no personal experience with changing homes, having lived in the same spacious third-floor apartment in the well-heeled Vedado neighborhood since 1957. Many, if not most, Cubans live in the same dwellings their families owned before the revolution; others have been assigned units by the state.
But almost every Cuban is either plotting to upgrade residences or knows someone in the midst of the labyrinthine process.
Here is how it works. Imagine a married Cuban couple with two children and a baby on the way who find their two-bedroom apartment in the historic Old Havana neighborhood too cramped. What are they to do?
Well, with the help of an agent known as a runner they might start by locating a bachelor from the countryside looking to come to the capital. They could arrange for the newcomer to move into a tiny apartment in Chinatown and move its residents " who also have a house in Miramar where their elderly grandmother lives " to a first-floor unit they sought in Central Havana. The Central Havana flat is available because the residents have divorced; so the former wife would go to the bachelors country house, near where her parents live, while her former husband would go to Old Havana. The Old Havana family that started the whole process would then head to their dream house in spacious and quiet Miramar.
Sound complicated? It is. And the government adds even more hurdles by trying to regulate the swaps with a variety of forms and fees as well as inspections of the properties involved to ensure that they are of roughly equal value.
(
www.nytimes.com
)
---
Related News
---